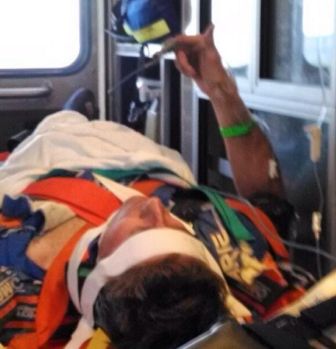 Bachelorette star Arie Luyendyk Jr. is recovering tonight in a Las Vegas hospital after crashing his truck at the opening race of the TORC Off Road season in Nevada this afternoon. Arie, who was the runner-up on Emily Maynard's season of 'The Bachelorette' back in 2012, reportedly flipped his truck multiple times on the course before coming to a stop on the side of the track. He had to be removed from the car by the event's medical team.
According to his father, Indy car racer Arie Sr., he was transported to the hospital with injuries that included a broken collarbone. Although his injuries are serious, it appears that Arie kept a good sense of humor throughout the ordeal, even tweeting out a photo of himself in the hospital while being pumped full of morphine.
He later updated his fans with another tweet.
"Going to be okay.. Possible surgery to fix my clavicle but my neck and back are okay. Be back soon, everyone loves a good comeback story," he wrote.
If you're one of those people that get all excited watching car crashes and want to see Arie eat it on the race course, click here and scroll to the 2 hour, 39 minute mark.
Arie was a fan favorite during Emily's season of 'The Bachelorette.' In January, he told The Ashley that he would be willing to do another 'Bachelor'-related show, should he be able to find time in his schedule. He seemed to be a shoo-in for the upcoming Bachelor in Paradise show that will air this summer. However, his now-shattered clavicle may have put a hitch in his reality show plans.
The Ashley sends her best wishes to Arie for a speedy recovery!
(Photo: Twitter)