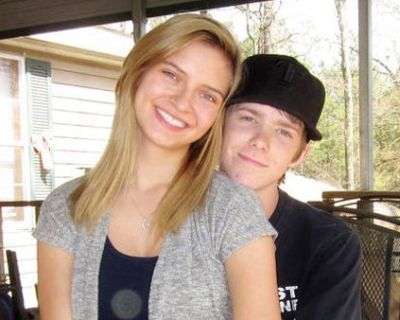 It's about to be a girl (again!) for 16 and Pregnant Season 4 star Myranda Trevino! The reality star, who turns 20 tomorrow, is about to give birth to her second child, a girl she plans to name Ryleigh. Although Myranda was not due until April 26, she is reportedly already dilated and could give birth any time now!
Myranda, who is probably best remembered for being "the girl that moved into the shack" during her '16 and Pregnant' episode, is already the mother of two-and-a-half-year-old Kaylee. She has kept a relatively low profile (compared to some of the other girls from the series), and is not active on social media. In November, she quietly married her baby's father, Eric Kennemer, and hinted that she was pregnant again.
Myranda and Eric are still living in Texas, and, although Myranda's relationship with her mother Billie was strained during the filming of her '16 and Pregnant' episode, it appears that they are now on good terms. Eric recently graduated from a local community college and Myranda is a stay at home mother.
She is certainly not the first girl from '16 and Pregnant' to get pregnant again. There have been at least 18 (out of the 47 girls that have been featured on the show) that have either had second children or are currently pregnant again. This list includes Ebony Jackson, Jenelle Evans, Lori Wickelhaus, Leah Messer, Kail Lowry, Brooke Tarrant, Felicia Cooke, Jordan Ward, Jennifer Del Rio, Danielle Cunningham, Mackenzie Douthit, Sarah Roberts , Kristina Robinson, Jordan Howard , Whitney Purvis, Aubrey Wolters and Ashley Salazar. There have been other pregnancy rumors, but these are the only ones that resulted in an actual child and/or are confirmed to be pregnant right now.
Congrats to Myranda and Eric!
(Photo: Facebook)