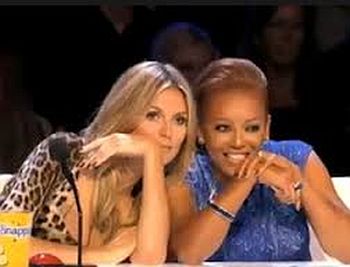 The new season of America's Got Talent is coming our way next month and, according to the show's cast, it will be full of totally unique acts, a new judge's save and even some bra-snatching fun. Judge Heidi Klum told The Ashley and the other reporters at the NBC Summer Press Tour on Tuesday that she was left, um, exposed during one of this season's more memorable auditions.
"There was a magician and one minute I was wearing a bra, and then the next minute he was holding my bra and I have no idea how he did that!" she said.
"That was my favorite morning so far on the show," her fellow judge Howie Mandel said. "The show benefited, the act benefited and I benefited!"
Poor Heidi, however, wasn't exactly thrilled with the lingerie heist.
"I was left a little droopy!" she exclaimed.
The addition of bra-stealing isn't the only thing that will be new for this season of 'AGT.' The judges revealed that they have each been given a "Golden Buzzer," which allows them to save one contestant from elimination. It is a show feature the producers obviously boosted from their aging competitor, American Idol, and tweaked a bit.
"You're actually saving a life," Howie said. "The people have dreams, this moment changes people's lives."
"If we don't like an act, we can buzz [them off], but now every judge has the opportunity to save someone," Heidi said. "So if someone gets three Xs and you believe in that person enough, you can hit the Golden Buzzer."
Howie said that he used his "golden" opportunity early in the season.
"I was the first to use the Golden Buzzer," he said. "I don't know if I squandered my opportunity."
A boot camp has also been added this season to help contestants, but Howie says the Season 9 acts have their work cut out for them.
"The bar was set [high] in Season 8," he said.
Season 9 of 'America's Got Talent' premieres on Tuesday, May 27.
If you are fan of the show, be sure to pick up a copy of The Ashley's latest book: Inside AGT: The Untold Stories of America's Got Talent, which contains tons of juicy behind-the-scenes gossip and updates on the show's most memorable contestants!
(Photo: NBC)