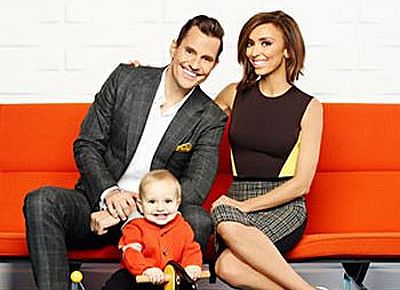 Some of Hollywood's biggest stars, as well as many of the entertainment industry's biggest media outlets, have joined together to promote a "No Kids" policy in the press. The initiative, which was started by actress Kristen Bell, encourages media outlets to not buy paparazzi photos of celebrity kids.
The initiative (which, for the record, The Ashley totally supports because the paps in Los Angeles are craaaaazy) is supported by E! News, which is hosted by reality star Giuliana Rancic. Giuliana, who stars on Giuliana and Bill with her husband Bill Rancic and their son Duke, defended her decision to allow her son to be filmed for their show.
"As far as we're concerned…when you're in control of your child's exposure I think it's very different than feeling blindsided by a photographer taking pictures of your kid," she told The Ashley and other reporters at the NBC Summer Press Day.
Giuliana has been called hypocritical for voicing her support of the No Kids initiative, while allowing Duke to be filmed.
"When it's not in your control, it's definitely feels like it's a little more of a violation," she said.
The seventh season of 'Giuliana and Bill' premiered last week and the couple says it will focus heavily on their quest to have a second child via a surrogate.
"There are ups and downs this season, it's a bit of a roller coaster ride of emotions," Giuliana said. "Episode 10, the finale, I think will shock a lot of people because it's very different from episode 1."
Bill said that, overall, the couple has received more positive feedback than negative regarding their show.
"There isn't one episode that we're ashamed of," he told reporters. "I don't think there are very many reality shows that can say that."