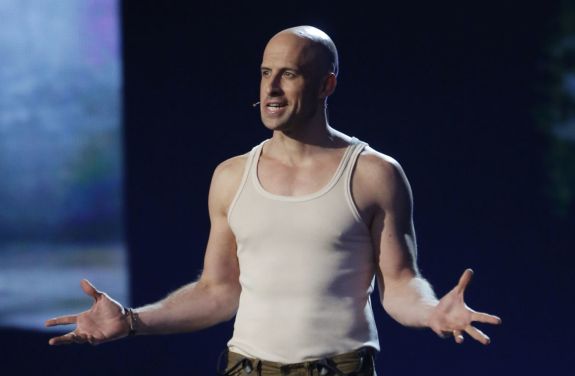 Former stuntman Jonathan Goodwin is suing for negligence and peculiar risk after an accident on the set of America's Got Talent: Extreme left him paralyzed.
As The Ashley previously told you, Jonathan was rehearsing a stunt for the NBC competition series in 2021 when the stunt went horribly wrong, causing Jonathan to be crushed by two flaming cars before falling 40 feet, missing the safety airbag and landing on his head.
Jonathan's fiancée, Amanda Abbington, later revealed that Jonathan lost a kidney, broke both shoulder blades, shattered both legs, suffered third-degree burns, broke his spine, severed his spinal cord and "nearly died" in the horrific accident.
Nearly two years later– and more than a year after he revealed that the accident had left him paralyzed– Jonathan is suing the parties he believes are responsible.
According to People, the former stuntman filed a lawsuit last week against Fremantle, SYCO Entertainment, Marathon Productions, Walk About Inc., T-Minus Productions, NBC Universal and stunt coordinator T.J. White. The 43-year-old is demanding a jury trial.
The lawsuit alleges that the named parties failed to implement multiple industry safety standards on set, including "designing and modifying a stunt in a manner that made it highly like to fail, hiring incompetent individuals to oversee and control the safety of the design and execution of the stunt, failing to test the stunt without a live person after modifications were made, failing to implement and require adequate redundancies and suitable airbags (safety nets), and failing to ensure that adequate safeguards were taken to prevent injuries."
The lawsuit goes on to claim that because of the "conscious disregard for the safety of others," Jonathan suffered "catastrophic, life-altering injuries."
In a statement to NBC News, Jonathan's attorney, Stuart Fraenkel, accused those named in the lawsuit of "putting profits and ratings before safety," claiming the producers and staff "could have taken a number of simple steps to ensure Jonathan's safety."
Instead, he claims, production on the show was "rushed, chaotic and staffed by a team that lacked the necessary expertise and life experience."
"Jonathan will be in a wheelchair for the rest of his life because there were inadequate safety practices, protocols and procedures in place to protect him," he stated.
According to his attorney, Jonathan also filed the lawsuit to bring attention to the entertainment industry's alleged ongoing lack of safety problem.
"[Jonathan] hopes that by bringing this claim, lessons will be learned, changes will be made and others in the future will not be exposed to unnecessary risks and danger."
RELATED STORY: Nick Cannon Talks Being a Father of 12 and If More Are On the Way On Howie Mandel's Podcast: "I Think I'm a Man of Abundance"
(Photos: NBC; Instagram)