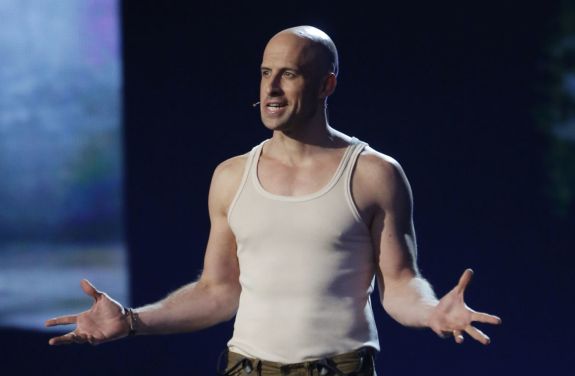 Stuntman and escape artist Jonathan Goodwin revealed he is now paralyzed from the waist down after suffering severe injuries last year on the set of America's Got Talent: Extreme.
As The Ashley reported in October, Jonathan was rehearsing a new new stunt for the America's Got Talent spinoff when the stunt went horribly wrong, causing Jonathan to be crushed by two flaming cars before falling 40 feet, missing the safety airbag and landing on his head. He was airlifted to a Georgia hospital following the horrific accident.
(Footage of Jonathan's accident can be seen here, though the video may be disturbing to some readers.)
A week after the accident, Jonathan thanked fans, friends, family and his fiancé, Amanda Abbington, for their support, adding that he had "a long road to recovery."
This week, Amanda spoke about her fiancé's accident on the Out to Lunch podcast, People reports, revealing Jonathan is now paralyzed after nearly dying–- twice.
"He fell 30 feet and lost a kidney, broke both shoulder blades, shattered both legs," she explained. "Third-degree burns, broke his spine and severed his spinal cord and nearly died. And then on the operating table, he nearly died again."
Amanda added, "unless there's a kind of stem cell surgery or that thing that Elon Musk is designing with that little chip," Jonathan will be in a wheelchair for the rest of his life.
Jonathan posted a photo to Instagram this week showing his "cool new wheels" and calling himself a "roll model."
"6 months ago I went to rehearse something and left this little hairy monkey waiting patiently for me…he didn't see his dad again until just a couple of weeks ago and when he finally did, dad had new cool wheels," Jonathan wrote. "A lot has changed in the last 6 months, but love is a constant and I'm very very loved. Looking forward to my next chapter and being a roll model."
Jonathan took to his Instagram Story Wednesday to thank fans for their messages, while also answering questions about his injury.
"I have a T11 spinal cord injury which means I'm paralyzed from the waist down," he wrote. "It's likely a permanent sitch. If any of you want to race though, I'm pretty sure I can beat you…#BringIt."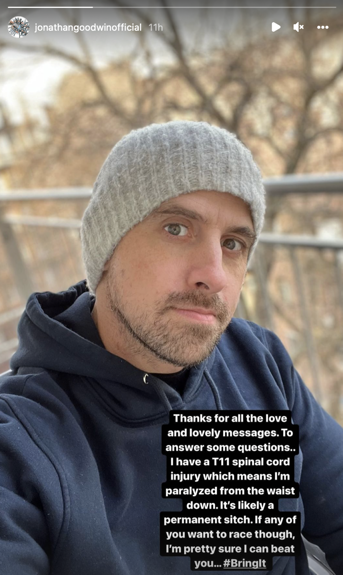 Jonathan has since changed his Instagram bio to reflect his "now retired" status as a stunt performer, adding "roll model & writer," along with a wheelchair emoji.
RELATED STORY: New Video Shows 'AGT' Daredevil Jonathan Goodwin's Terrifying Accident on Set of 'America's Got Talent: Extreme'
(Photos: AGT; Instagram)