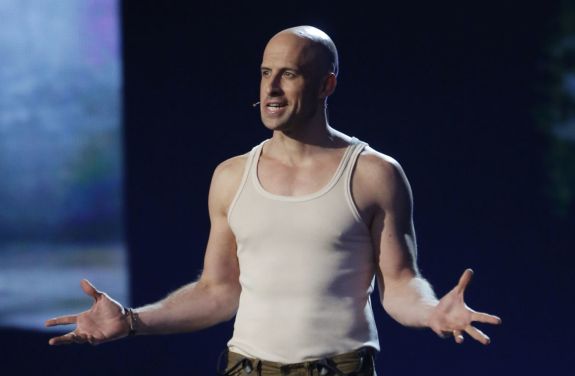 Stuntman and escape artist Jonathan Goodwin is speaking out less than a week after suffering severe injuries on the set of America's Got Talent: Extreme.
As The Ashley previously reported, while rehearsing a new stunt last week for the America's Got Talent spinoff, the stunt went horribly wrong, causing Jonathan to be crushed between two flaming cars, then fall 40 feet and land on his head. He was airlifted to a Georgia hospital with serious injuries, but there had been no updates on his condition until he updated his Instagram on Wednesday.
(Footage of Jonathan accident can be seen here, though the video may be disturbing to some readers.)
Fans were relieved to see the stuntman return to social media Wednesday in the aftermath of the horrific accident.
"You can't say you don't get out what you put in," Jonathan wrote. "I've tried my hardest over the years to be kind, thoughtful, honest, supportive and good. A couple of days ago my life took a complete left turn… and the outpouring of love from all the corners of the world; from people I didn't even think would know or remember me… has just been astonishing. Truly incredible. I will have a lot to say on that matter and the benefits of being kind in the future.. but thank you."
Jonathan went on to acknowledge those who have reached out to send their love and support, calling it "a lifesaver." He also mentioned several people by name, including "the best thing to ever happen to me," his fiancée, Amanda Abbington.
"I have been to the very brink and dodged the worst that a human being can, without fear… because I was protected by love," he added. "Love is all you need, so make sure you get some cos it's good shit."
Amanda commented on Jonathan's post, telling him she loved him so much and "we've totally got this."

Though Jonathan admitted he has a long road to recovery ahead of him, he told followers he has "a lot left to do in this world."
"To death I say nananana boo boo… and to the rest of you… watch this space," he wrote. "There is a long road to recovery and that won't look like what it did… I may leave the daft shit for a while, but I have a lot left to do in this world. Maybe we can make something good together?"
Jonathan did not give details on the injuries he suffered during the accident, but in the photo posted to Instagram, his face was covered in injuries and his hand is bandaged.
Production on 'America's Got Talent: Extreme' is currently paused.
RELATED STORY: New Video Shows 'AGT' Daredevil Jonathan Goodwin's Terrifying Accident on Set of 'America's Got Talent: Extreme'
(Photos: NBC; Instagram)