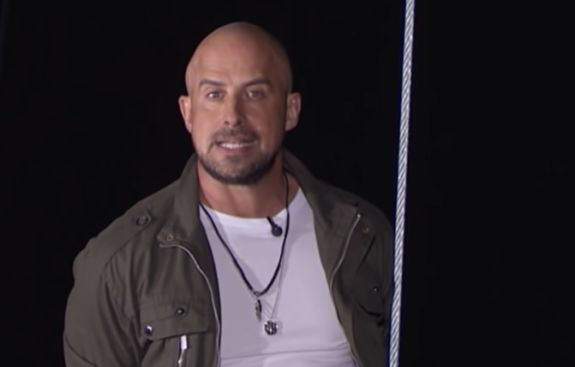 A horrible accident on the set of America's Got Talent: Extreme has reportedly left stuntman/escape artist Jonathan Goodwin with severe injuries, after the AGT vet reportedly fell 40 feet and landed on his head while rehearsing a stunt for the show.
TMZ broke the news of the accident, which occurred Thursday at the Atlanta Motor Speedway. According to the person who made the 911 call– first obtained by The Sun— Jonathan "missed the airbag" he was supposed to fall onto and instead "landed on his head.
"We are at the Atlanta Motor Speedway at the America's Got Talent filming location. We had a man suspended from a cable with cars that were supposed to slam into each other, and he didn't drop in time and they slammed into him…He's about a 40-year-old white male. He fell about 40 feet. He missed the airbag and landed on his head."
The caller mentions that there are some emergency personnel on-set already; however, she states that the stuntman was "agonal and posturing."( "Agonal" breathing refers to short, gasping breaths that occur because oxygen cannot reach the brain. "Posturing" is that act of making involuntary body movements that often signify a traumatic injury to the brain.)
According to TMZ, Jonathan was hanging by his feet on a wire high in the air while wearing a straitjacket. Two cars had been suspended on either side of him and were swinging back and forth.
The stunt called for Jonathan "to free himself from the restraints and then fall on an air mattress, and avoid getting crushed by the cars as they swung in the air.
"Something went terribly wrong, and the cars smashed together, sandwiching Goodwin in between them," the site reports. "The impact caused the cars to explode, erupting in a gigantic fireball. Goodwin fell to the ground and hit his head."
After the accident, Jonathan— who hails from the UK— was airlifted to a local hospital. A police spokesperson for the Henry County Sherriff's Department told The Sun on Friday that Jonathan "suffered severe injuries to his legs and several lacerations, and was airlifted to Grady Hospital…He was transported in serious condition, but is currently alive, alert and well."
A spokesperson for 'America's Got Talent' confirmed the accident to The Sun.
"During a rehearsal last evening for America's Got Talent: Extreme, an accident occurred in which escape artist Jonathan Goodwin was injured while performing his act," the spokesperson's statement read. "He was responsive and was immediately taken to the hospital where he is continuing to receive medical care. Our thoughts and prayers go out to him and his family as we await further updates on his condition."
Earlier this month, Jonathan tweeted about the new stunt, and seemed excited to begin rehearsing it.
I'm in Atlanta rigging a new stunt which I'm super excited about! Cranes and cars and explosives oh my! What's everyone else up to? pic.twitter.com/Mxrf05JHjU

— Jonathan Goodwin (@TheDaredevil) October 2, 2021
"I'm in Atlanta rigging a new stunt which I'm super excited about! Cranes and cars and explosives oh my! What's everyone else up to?" he wrote on Twitter on October 2.
Jonathan first appeared on 'AGT' in 2020, making it all the way to the semi-finals. He has appeared on several other reality shows including Dangerman, Discovery Channel's One Way Out, Britain's Got Talent, and How Not To Become Shark Bait (a 2008 special in which he got attacked by a shark in the Bahamas.) Jonathan also had his own UK reality show for a time, appearing on The Incredible Mr. Goodwin in 2013.
He currently lives in Las Vegas and is became engaged to UK actress Amanda Abbington earlier this month.
'America's Got Talent: Extreme' was announced last month. The spin-off is described by NBC as having "the most outrageous, unique and jaw-dropping acts of enormous scale and magnitude that simply cannot be confined to a theater stage." 'AGT' host Terry Crews will host the spin-off, with Simon Cowell, WWE star Nikki Bella and pro motorcross star Travis Pastrana judging the acts.
Production on the show remains paused as of press time.
The Ashley will update this story when more info is available.