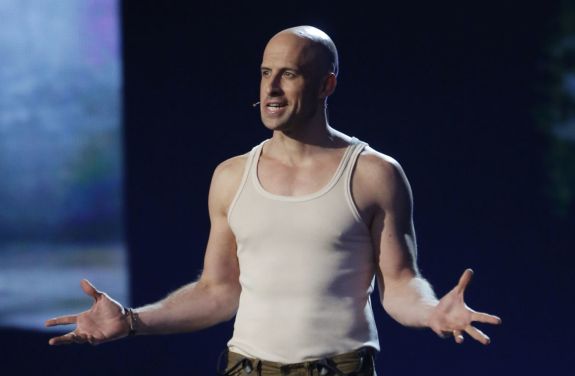 Note from The Ashley: This footage may be disturbing to some readers…
Terrifying new footage has been released showing the on-set accident that caused America's Got Talent escape artist Jonathan Goodwin to be airlifted to a Georgia hospital with serious injuries earlier this week.
As The Ashley previously reported, Jonathan was rehearsing his new stunt for the America's Got Talent: Extreme spinoff when the stunt went horribly wrong. According to a person on-set Thursday who called 911 for help, Jonathan was "suspended from a cable with cars that were supposed to slam into each other, and he didn't drop in time and they slammed into him… He fell about 40 feet. He missed the airbag and landed on his head."
In the new footage, obtained by TMZ, Jonathan can be seen hanging by his feet from a wire, while attempting to break free from the straightjacket he's wearing.
Two cars swing on either side of him and begin to swing toward him. Unfortunately, Jonathan does not shed his straightjacket and drop in time, resulting in the cars sandwiching him and then erupting into a ball of flames.
You can watch the short clip below, which shows the beginning of the stunt and the cars erupting in flames.
There have been no updates on Jonathan's condition since Friday. According to TMZ, after he was taken to the hospital on Thursday, he underwent surgery and was in the trauma unit. His fiancé, actress Amanda Abbington, has not yet released a statement.
A police spokesperson for the Henry County Sherriff's Department told The Sun on Friday that Jonathan "suffered severe injuries to his legs and several lacerations, and was airlifted to Grady Hospital…He was transported in serious condition, but is currently alive, alert and well."
A spokesperson for 'America's Got Talent' confirmed the accident to The Sun.
I'm in Atlanta rigging a new stunt which I'm super excited about! Cranes and cars and explosives oh my! What's everyone else up to? pic.twitter.com/Mxrf05JHjU

— Jonathan Goodwin (@TheDaredevil) October 2, 2021
"During a rehearsal last evening for America's Got Talent: Extreme, an accident occurred in which escape artist Jonathan Goodwin was injured while performing his act," the spokesperson's statement read. "He was responsive and was immediately taken to the hospital where he is continuing to receive medical care. Our thoughts and prayers go out to him and his family as we await further updates on his condition."
Production on 'America's Got Talent: Extreme' has been paused.
Jonathan has appeared on other reality shows including Britain's Got Talent and One Way Out.
RELATED STORY: 'America's Got Talent: Extreme' Escape Artist Jonathan Goodwin Hospitalized with Severe Injuries After Stunt Goes Horribly Wrong During Show Rehearsals
(Photos: NBC; Twitter)