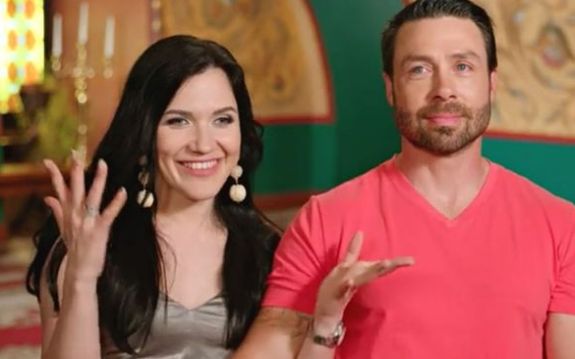 After Geoffrey Paschal was convicted of three serious crimes earlier this month, his fiancé Varya Malina suddenly deactivated her Instagram account and would not comment on Geoffrey being found guilty of aggravated kidnapping, domestic violence and interference with an emergency call, relating to a domestic dispute with another woman in 2019.
However, on Saturday, the 90 Day Fiance: Before the 90 Days star made it clear that she's standing by Geoffrey and, along with his children, is even asking fans to donate money so they can fight to clear Geoffrey's name!
Varya reactivated her account, posting a montage of photos of her with Geoffrey, along with a message to their supporters, letting them know where they can donate money to help Geoffrey & Co. fight the conviction. (As The Ashley previously reported, Geoffrey's son Dakota recently posted a plea for help— and money— to Geoffrey's Instagram account.)
View this post on Instagram
Geoffrey is scheduled to be sentenced on December 3 and is facing eight to 30 years for just the felony aggravated kidnapping charge alone. He will remain behind bars until sentencing, as the judge denied him bail.
Anyway, in her Instagram message, Varya acknowledged that she and Geoffrey have had a rocky relationship. (Due to Geoffrey's legal issues, he and Varya were unable to attend the 90 Day Fiance: Before the 90 Days "Tell All" Reunion taping, leaving fans uncertain if they are still together. However, fans spotted the couple together at a festival in Tennessee in July.)
View this post on Instagram
In the Instagram message, though, Varya left no doubt on where their relationship stands currently.
"For the past 2.5 years, we have had so many ups and downs. In our relationship, there were times of love and disappointment, cowardice and heroism, betrayal and forgiveness. But there wasn't ever a place for indifference," she wrote. "Right now, I ask all people who are also concerned about Geoffrey to unite and help the justice to be served. His son Dakota, on behalf of the whole family, started fund raising.
"By this, we all are giving Geoffrey an opportunity to clear his name and we are giving the children who have already been traumatized by social media cruelty, a chance to have their dad by their side when they need him.
"I'm thankful to each of you who have reached out to me and asked how you can help.
This is how you can do it…"
Varya then listed off several Paypal/Venmo accounts that fans could send money to for Geoffrey.
While most of Geoffrey's "90 Day Fiance" "family" has made it obvious that they don't support him, he has a big supporter in pal Natalie Mordovtseva. In addition to Natalie posting several Instagram Stories in support of Geoffrey after his conviction, she also commented, "Love you guys!" on Varya's post about Geoffrey.
RELATED STORY: Former "90 Day Fiance" Star Geoffrey Paschel Found Guilty On All Counts During Kidnapping & Domestic Assault Trial
(Photos: TLC; Instagram)