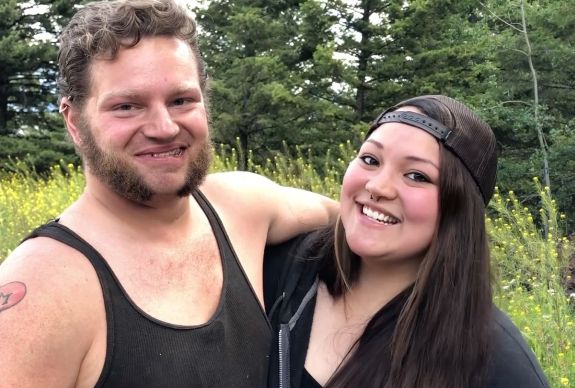 Surprise! It's another girl for Alaskan Bush People star Gabe Brown and his wife Raquell!
Raquell—who married Gabe in January 2019— recently gave fans an update on their family, which now includes another baby girl! The couple apparently welcomed their second daughter last month, but did not share the news until this week.
Raquell posted to her Instagram account for the first time in months to inform 'ABP' fans of the baby's birth. She stated that Sophie— the daughter she and Gabe welcomed in the fall of 2019— is thrilled to have a little sister.
"Within the last month we've welcomed another addition to our family and Sophie is happy to be a big sister," Raquell wrote in the caption of a photo showing both girls. "Thank you for all your support and many blessings to the future. Sophie says "Awww cute! Baby sister."
Raquell did not reveal her newborn daughter's name or birthdate; however, she did acknowledge that she doesn't like to share too much information about her kids online.
"This year has been especially hard for our family but with hard times; blessings come as well," she wrote, most likely referring to the death of Gabe's father, Billy Brown, in February. "As many of you have noticed, I take my privacy and my children's privacy very seriously. You may not see us around as often as you do with Gabe, none the less we're still here. We continue to ask for our privacy from the public eye."
In August, Raquell posted a rare photo of Gabe holding their daughter Sophie to Instagram.
Gabe and Raquell met through Gabe's little sister Rain and have been dating since February 2018. In January 2020, Gabe posted a personal message about Raquell.
"When two people meet, and two souls touch," he wrote on Instagram. "In one look, love is felt. As time goes on, and that love grows into something more, becoming hard to describe I call that blessed. That's what I feel for Raquell. If you have someone like that in your life cherish them, and never give up on them. If not not just hold on. Love will come to you. God bless us all."
RELATED STORY: 'Alaskan Bush People' Star Bear Brown & Baby Mama Raiven Adams Are Back Together…Again: "Not Everything Is Meant For You To Understand!"
(Photos: Instagram)