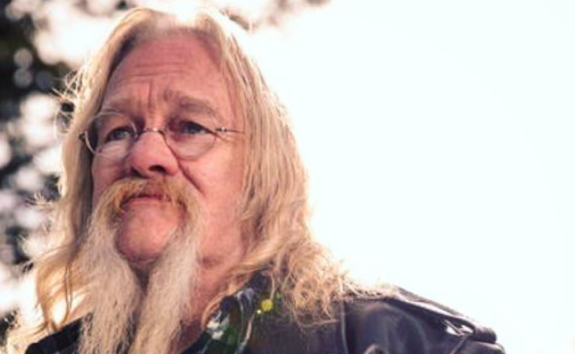 The Alaskan Bush People are mourning the loss of their patriarch, Billy Brown.
Billy's son, Bear Brown, announced on Instagram on Monday that his father Billy passed away unexpectedly on Sunday at the age of 68. Billy— who is the father of seven and husband of Ami Brown— has dealt with his share of health issues over the past few years, but it appears his death came as a surprise to his family.
"We are heartbroken to announce that our beloved patriarch Billy Brown passed away last night after suffering from a seizure," Bear wrote on Instagram.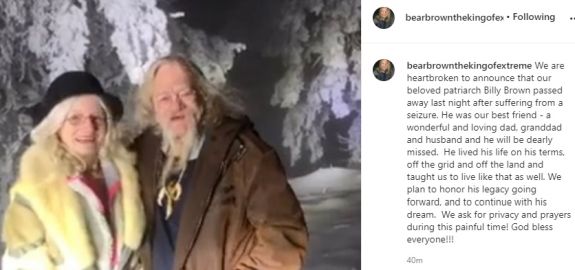 "He was our best friend – a wonderful and loving dad, granddad and husband and he will be dearly missed. He lived his life on his terms, off the grid and off the land and taught us to live like that as well.
"We plan to honor his legacy going forward, and to continue with his dream," Bear's post continued. "We ask for privacy and prayers during this painful time! God bless everyone!"
On the official 'Alaskan Bush People' Facebook page, the Discovery Channel also paid tribute to Billy.
"We are devastated to hear of Billy Brown's sudden passing," the post read. "He has been part of the Discovery family for years – a trailblazer, a lovely man, and most definitely one of a kind. Our heart is with his family and those that knew him and loved him as they deal with this devastating loss."
Last month,The Sun reported that Billy had defied his doctor's orders by continuing to live on a mountain. The doctor had reportedly told Billy that living at such a high altitude was bad for his breathing and heart, both of which he had serious issues with. During one episode of 'Alaskan Bush People,' Billy's kids were shown moving Billy and Ami's trailer to a spot lower on the mountain so he would be closer to sea level.
It's been a hard couple of years for the Brown family. Billy had been in and out of the hospital, suffering from various health issues including seizures, and last year, the family's Washington property was destroyed by wildfires.
UPDATE! Billy's daughter, Rain Brown, also posted a tribute to her late father.
"I lost a true friend. Not forever, but only in this world," she wrote in the photo caption. "Please hold my family in your thoughts and prayers, especially my mother. Please hold your family tight for me. Words cannot express how wonderful he was and is. But I will say, the closest thing to an angel I've ever known. God bless you da I love and miss you dearly. You will always be my hero. God bless everyone."
RELATED STORY: 'Alaskan Bush People' Star Bear Brown Says Wildfire Has Destroyed the Family's Washington Home
(Photos: Discovery, Facebook, Instagram)