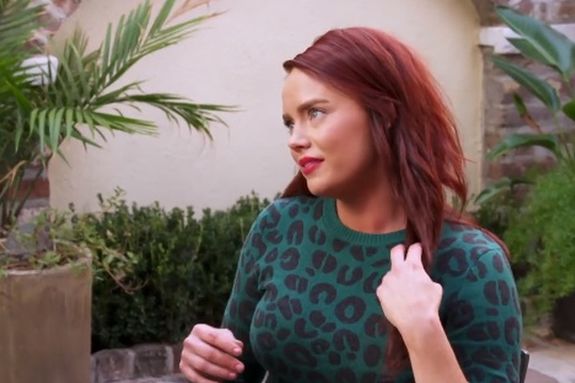 Nearly nine months after coming under fire for using a racist emoji in a private message exchange with Black activist and radio host Tamika Gadsden, Southern Charm star Kathryn Dennis is ready to talk about the incident and what she continues to learn from it, particularly about white privilege.
"This is not me saying what I did was OK, or any of that," she said in a new interview with Entertainment Tonight. "It's just acknowledging I made a mistake and, yeah, I didn't really have to grow up thinking about these types of things or having difficult conversations like this. I know that speaks to my privilege, but that's why I say this was a wakeup call for me."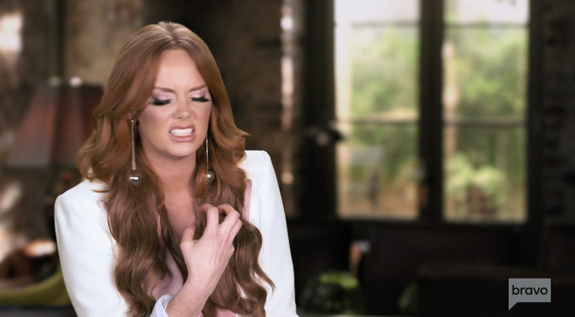 The controversy started last May when Tamika criticized the owner of a Charleston nail salon who was organizing a boat parade in support of then-President Donald Trump. Kathryn posted a note in support of the salon owner, which prompted the exchange between the activist and the reality star where Kathryn used a monkey emoji in one of her replies.
Tamika shared the exchange on Twitter, leading Kathryn to release a series of statements, some seemingly well-meaning, some misguided.
I guess I didn't give her the response she wanted. pic.twitter.com/Ll0sJu9wOi

— Modjeska H. McCray-Bass (@mikagadsden) May 11, 2020
"I want to acknowledge that using a monkey emoji in my text was offensive, and from the bottom of my heart I sincerely apologize to anyone and everyone I hurt. Although the context was not my intention, there are no 'if ands or buts' that excuse me … I did not give it thought, and it was and is wrong. I know I am not that person. I know and will do better," Kathryn tweeted on May 11.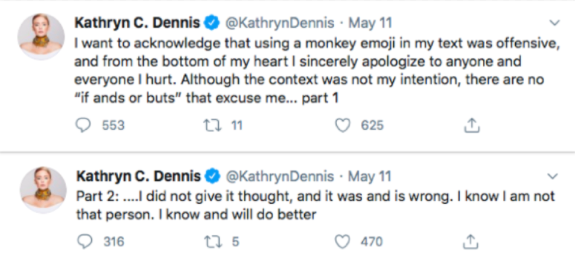 A few days later, she took to Instagram.
" … Y'all have to know that this whole thing has been blown out of context," she shared. "I'm freakin heartbroken and SO depressed because the way I'm being portrayed is totally not true!!!"
In the new Entertainment Tonight interview, Kathryn shared that the scandal– which led her former employer to distance itself from her and had some 'Southern Charm' fans asking why she hadn't been fired from the show (this ahead of a summer when several members of the Vanderpump Rules cast were fired for racist actions)— caused her to enter into a long period of depression. The situation also brought her closer to new boyfriend Chleb Ravenell (no relation to her notorious ex, Thomas Ravenel), a relationship that has helped with her growth and healing.
"Being around Chleb and his friends and his family that are, honestly, mostly Black, I've learned the way they do things and move [in the world], and the conversations they have amongst each other, and the struggle," Kathryn told Entertainment Tonight. "There's really no class you can take about this matter, you know? Just experience."
Chleb accompanied Kathryn to the recent 'Southern Charm' reunion tapings and she thanked him for his support in an Instagram post on Jan. 28.
"My guy, by my side, always for my babe to stick by me during one of the hardest years I have ever had.. always showering me with support.-.I just couldn't be more thankful. Cheers to the next year and cheers to the #southerncharm reunion part 1..on right now!"
In the Entertainment Tonight interview, Kathryn also showed her appreciation for everything she's learned over the last year.
"It's been a long road, but I wouldn't go back on anything," she said. "Not just in the last year, but in the last eight years. Everything led me to the place I'm at now, which is really good, and moving forward, I feel like I'm a better person, so I can't be anything but thankful."
RELATED STORY: Former 'Southern Charm' Star Cameran Eubanks Says a Mean Social Media Comment About Her Teeth Prompted Her to Undergo a $6K Dental Makeover
(Photos: Bravo; Twitter; Instagram)