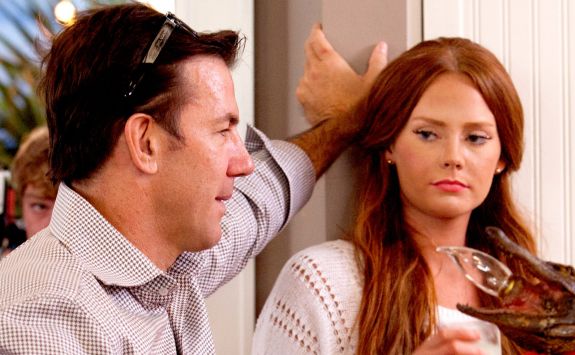 Kathryn Dennis spent the last few years battling Thomas Ravenel in court and in the media, but this week, the Southern Charm star found an unlikely ally in her formerly estranged ex.
Reality Tea reported earlier this week that Kathryn Dennis used a monkey emoji when arguing with African-American radio host Tamika Gadsen in a private message on Instagram. After the conversation went viral, Kathryn issued an apology on Twitter, claiming she did not intend to offend anyone, and that she is not racist, something Thomas also attested to in a statement posted to his own Twitter account. (His tweet has since been deleted, though.)
"I want to acknowledge that using a monkey emoji in my texts was offensive, and from the bottom of my heart I sincerely apologize to anyone and everyone I hurt," she wrote. "Although the context was not my intention, there are no 'if ands or buts' that excuse me… I did not give it thought, and it was and is wrong. I know I am not that person. I know and will do better."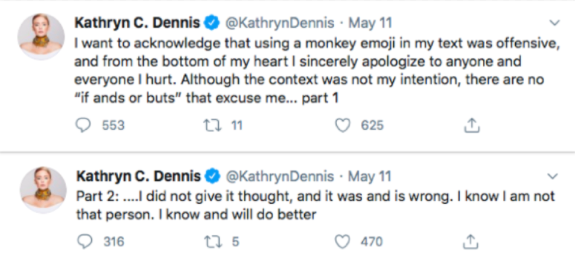 Thomas– who has quite the problematic past of his own (to say the least)— defended Kathryn's character, denying the claims that she is racist.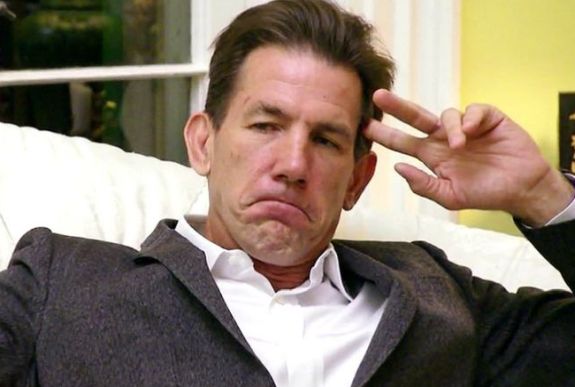 "Say what you want about [Kathryn], she is not a racist," Thomas wrote in the now-deleted tweet (which was screenshot by the Instagram @BravoSnarkSide before it was taken down).
"Some of her good friends are people of color and I've never, ever heard a racial slur come out of her mouth. She doesn't even think about race or even consider it. This is a very unfortunate mistake."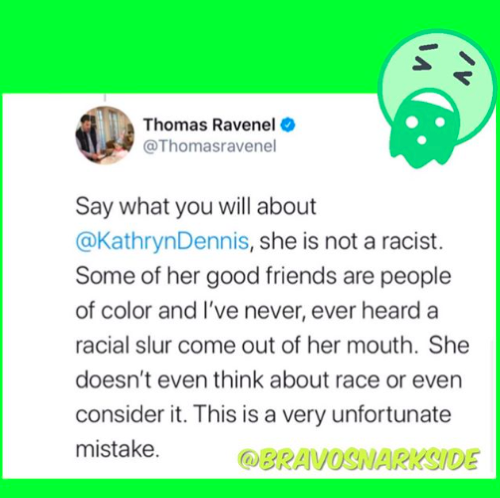 While Thomas may be in Kathryn's corner regarding the controversial messages, her now-former employer Gwynn's— a clothing store in Mount Pleasant, South Carolina— has issued a statement confirming that they're distancing themselves from the 'Southern Charm' star.
"As a minority-owned business, Gwynn's and our employees are dedicated to serving all members of our community," the statement reads. "Indisputably, Kathryn Dennis' comments and statements to Tamika Gadsen do not reflect the values of the Gwynn's brand. Her previous affiliation as a brand ambassador was periodic and on a contract basis. We stand in unity with people of color and with cases that fight to end injustices."
As fans of 'Southern Charm' may remember, Kathryn's employment at Gwynn's was featured fairly often on the show at one point (including her initial job interview) and members of the cast have been shown shopping at the store throughout the series – yes, even Patricia Altschul.
While the company noted it was parting ways from Kathryn, many of her images currently remain on the store's Instagram page.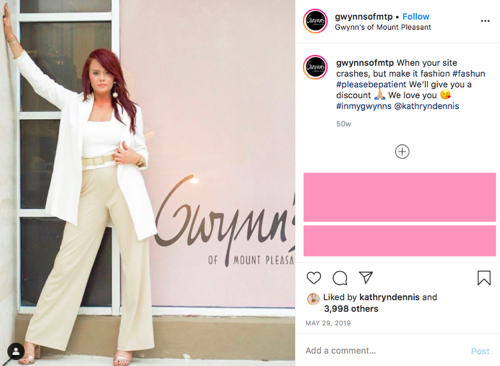 RELATED STORY: Cameran Eubanks Announces She's Leaving 'Southern Charm' After Six Seasons; Will Not Return for Season 7
(Photos: Bravo; Twitter; Instagram)