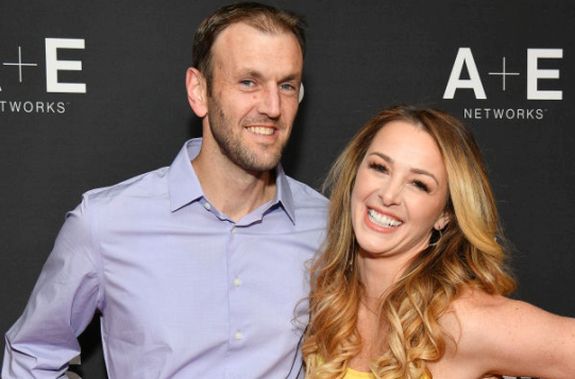 It's a boy for Married At First Sight stars Jamie Otis and Doug Hehner!
The couple— who starred on the very first season of the show (and are the only ones who are still together from that season)— welcomed son Hayes Douglas on Wednesday. The baby was born at home, due to Jamie and Doug not wanting to go to the hospital for the delivery during the C0VID-19 pandemic.
Hayes weighed in at 9 lbs., 4 oz. and measured 21 inches at birth.
Jamie had been very vocal about her struggle to become pregnant, both before and after the birth of their now-two-year-old daughter Henley. She suffered several miscarriages, as well as the 2016 second-trimester loss of a baby boy, whom they named Jonathan. Since announcing the pregnancy in September 2019, Jamie and Doug have kept their fans up-to-date on the baby with nearly daily updates.
Jamie even went livestreamed some of her labor with Hayes on Wednesday. She went Live on Instagram while lying on her bed with Doug and having contractions. Jamie allowed her 624,000 followers to watch as she groaned and powered through the contractions. Hayes' actual arrival was not shown on the Live, though, and Jamie apologized to her fans for that.
"I'm sorry I wasn't able to go 'live' longer – I was in so much pain during contractions and this labor happened so fast!" Jamie later wrote on Instagram. "I wanted to really focus on my breathing and being one with my son. Within 6 hours he was OUT!"
Doug posted some photos of the birth to his Instagram account before congratulating Jamie on Twitter.
"So proud of you @JamieNOTis – I can't imagine pushing 9 lbs. 4 oz. of anything out of me, and you took it like a champ! (I knew you could do it!) This now means I cannot complain about any ailment ever again."
Last month, Jamie— who is a labor and delivery nurse—revealed on Instagram why she and Doug decided to go with a home birth with Hayes. (Henley was born in a hospital and Jamie got an epidural for that birth.)
"To be very honest, if this pandemic never came there's not a chance I would've ever considered a home birth," Jamie wrote in a post. "I didn't know a lot about them and as a Labor & Delivery nurse I learned the safest place to have your baby is in the hospital. ….but then C0VID19 came.
"We weighed every single option and thoroughly RESEARCHED. I prayed and meditated and just asked for signs … and the other day when I met with my midwife I just *knew* a home birth is going to be safest and best for us during this time."
Jamie and Doug were one of three couples featured on the first season of 'Married At First Sight' in 2014. While both of the other Season 1 couples ended up divorcing, Jamie and Doug celebrated their sixth wedding anniversary in March.
Jamie is the host of the Married At First Sight: Unfiltered.
You can watch some of Jamie's livestreamed birth here. (Don't worry, it's a Safe For Work video.)
UPDATE! Several days after the birth of their son, Jamie and Doug announced that they have decided to change his name from Hayes to Hendrix.
"WE HAVE A BIG ANNOUNCEMENT! We changed our sons name," Jamie wrote on Instagram. "We filled out his birth certificate & have officially changed it from Hayes Douglas to Hendrix Douglas. We couldn't decide between Hayes and Hendrix our whole pregnancy. We ended up going with Hayes, but the moment I pushed him out & brought him to my chest I almost blurted out, Hendrix!"
RELATED STORY: 'Married At First Sight' Season 1 Star Cortney Hendrix Engaged to Boyfriend, Months After Her Ex-Husband Jason Carrion Remarried
(Photos: Dia Dipasupil/Getty Images; Instagram)