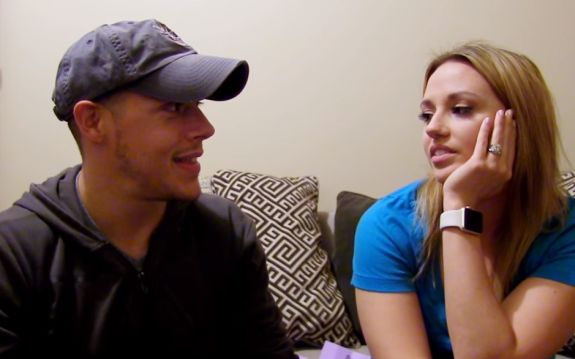 After months of speculating, Married At First Sight fans finally have their answer in regard to where the marriage of Season 1 stars Cortney Hendrix and Jason Carrion stands. In a message posted to Instagram on Thursday, Cortney admitted that she and Jason are divorcing after five years of marriage.
The couple– who met and married on the very first season of 'Married At First Sight' in 2014– have not appeared in each other's social media posts for many months, causing fans to suspect that there was trouble in the relationship. In her message on Thursday, Cortney confirmed that she and Jason have not been together for some time.
"In February 2019 Jason and I filed for divorce– after the court of Kings County New York acknowledged at least a 6 month separation," Cortney wrote.
View this post on Instagram
Cortney went on to reveal that she and Jason had considered divorcing and starting all over in their relationship, but later decided not to continue in the marriage at all.
"We asked for privacy this entire time bc we were trying to figure it all out," she wrote. "At one point we thought we were going to divorce in order to date and start all over the right way. We have decided together to move on in different paths, but that doesn't mean we don't have love for each other. He will always have a special place in my heart and life."
Earlier this week, Cortney showed signs that she was moving on. She removed Jason's last name from her Instagram bio, as well as a line indicating that she was the wife of a New York firefighter. Cortney moved back to her home state of North Carolina last year, while Jason has remained in NYC.
After Cortney posted the message about the divorce, Jason released a statement to People magazine.
"It is with a heart full of sadness that me and Cortney have decided to separate," he said. "We fell deeply in love, and had very much a fairytale story being married as complete strangers in the docu-series, 'Married at First Sight.'"
"We both had such an incredibly magical journey together these past few years, making this that much harder to write and even harder to live," Jason said. "These last few months, we asked for privacy to reevaluate things. It has been a very difficult time for me especially with all the rumors, as well as the public wanting updates about our marriage."
Jason also stated that he and Cortney are staying on good terms.
"Although we've decided to go our separate ways, we continue to love and support one another and still share a common goal to remain friends," he said. "I think the best way I could summarize how I feel is through a quote that has stayed with me for some time by Joseph Campell, 'We must be willing to let go of the life we've planned, so as to have the life that is waiting for us.' "
Cortney and Jason both thanked 'Married At First Sight' fans for their well wishes.
"We do love you all and appreciate the support that you have shown us from the beginning," she wrote.
View this post on Instagram
Jason and Cortney's Season 1 co-stars, Jamie Otis and Doug Hehner, are still together and recently celebrated their fifth wedding anniversary.
Not counting the four couples that are currently starring on 'Married At First Sight' Season 8 (whom have not yet revealed if they are staying together or not), there have been 21 couples who have been matched and married on the show. As of today, only four of those couples are still together: Jamie and Doug of Season 1, Ashley Petta and Anthony D'Amico of Season 5, Shawniece Jackson and Jephte Pierre of Season 6, and Danielle Bergman and Bobby Dodd of Season 7.
Relive a happier time for Cortney and Jason by watching the video– which was filmed in 2017– below.
RELATED STORY: 'Married At First Sight' Season 7 Couple Danielle Bergman & Bobby Dodd Welcome First Child
(Photos: YouTube, Instagram)