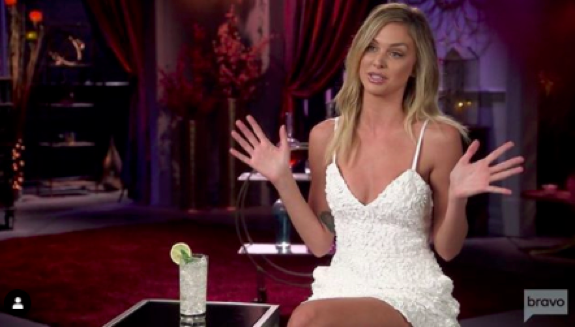 Lala Kent recently admitted to her followers that she is an alcoholic and is now sober, but she's not letting her new lifestyle keep her from continuing her run on Vanderpump Rules.
Lala told Reality Blurb that she has no plans to leave the Bravo show, nor does she know where the rumors of her potential departure came from.
She also denied that her fiancé, Randall Emmett, was the one pressuring her to leave the series.
"Randall would never in his life ever tell me I have to do something. He is so supportive and I don't know where that came from that I was going to leave the show. I've never said that," she said. "No, no. 'Vanderpump Rules' is the mothership. I'm staying on the mothership."
https://www.instagram.com/p/Brdd3XoFSkB/?utm_source=ig_web_copy_link
Not only is Lala planning to stay on the show, she says her co-stars have rallied behind her with their full support of her sobriety.
"I was really worried to talk to my cast members about my sobriety and they have been the most supportive people in the world," she said. "They make me feel like I'm still a part of it. When we order shots, I have my little shot of pineapple juice and they're totally into in. I think even if I said to them, 'I think I'm going to have a drink tonight,' which I never would again, they would stop me. That's how supportive they've been with my sobriety."
Fans of the shows got to see a glimpse of this support earlier in the season during a girls trip to Solvang in which Lala announced that she would not be drinking. While the group went on multiple wine tastings, Lala joined and ordered non-alcoholic beverages, though her co-stars allowed her to sniff their selections in order to participate in the "wine tasting" experience.
During the episode, Lala said her decision to abstain from drinking on the trip was fueled by a mutual agreement she and Randall had made for neither of them to drink—an agreement she said Randall did not stick to in the following episode.
While Lala was open about abstaining from alcohol on the show, her Instagram video was the first time she revealed to fans that she is an alcoholic.
"I'm feeling inspired today," Lala said in the video. "I have a heart that's very full right now. I know I've spoken to you guys before about my struggle with alcohol. Five months ago, I came to the realization that I am an alcoholic."
Lala went on to tell her followers that she had joined Alcoholics Anonymous—a program she said has given her "new life."
"I always say if you don't have to be sober, I wouldn't recommend it," she continued. "But me, as someone who does need to be sober, being in my right frame of mind every single day is truly incredible. When I'm having the roughest day I could possibly have, I for once in a very very long time see the light at the end of the tunnel. I know tomorrow, I'm going to be okay."
Lala has since said she felt "extremely empowered" after coming forward to talk about her alcoholism.
"I know that some people in the program I'm in are old school and they want to maintain everything being anonymous and I respect that but as someone who is [in] a younger generation of alcoholics, it needs to be spoken about," she told Reality Blurb.
"This program is amazing and I think if people knew what it was really about, we would be serving a lot of young people that struggle with alcohol."
(Photos: Bravo, Instagram)