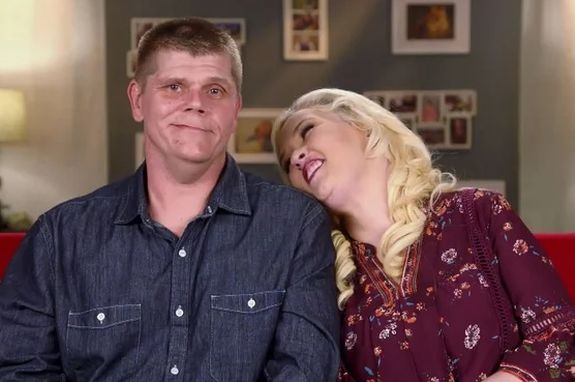 Mama June says she's blind and is asking the court to allow her boyfriend (and recent arrest buddy) Geno Doak to be allowed to come back to their shared home so he can help her!
As The Ashley previously reported, Mama June and Geno were arrested for possession of crack cocaine and drug paraphernalia earlier this month. Geno also had a domestic violence/harassment charge filed against him, due to the couple's domestic dispute at an Alabama gas station before their arrests. According to court documents, Geno was allegedly heard threatening to kill Mama June during the dispute.
After they were released from the slammer, Mama June and Geno were ordered by a judge to have no contact. Now, Mama June is asking the court to drop the no contact order against Geno.
According to TMZ, "Mama says she is partially blind, and her BF Geno Doak helps her get through the days dealing with it."
Mama June's vision issues have been a topic on her WEtv show Mama June: From Not to Hot, as well as her previous TLC reality show Here Comes Honey Boo Boo. Last year, she told People that she has already undergone four surgeries to repair the damaged vision in her left eye. One of those surgeries was documented on 'From Not to Hot' Season 1.
She told the magazine that she is already blind in her right eye and is now losing vision in her left eye, leaving her dependent on others.
"It's been physically and emotionally draining," she told the magazine last June. "Losing my independence and having to rely on other people for everything has been crazy."
The reality TV star has battled vision issues since birth.
"I was born with cataracts and nothing was ever done," Mama June said on an episode of 'From Not to Hot' that aired in March 2018. "I went blind in my right eye four years ago and now my good eye is really bad."
In the court documents filed by Mama June, she states that she does not fear for her safety or worry that Geno could hurt her, and that she would like the domestic violence charge against him dropped as well.
"[We're] working on our relationship to make us stronger as a couple," Mama June wrote.
In the court docs, Mama June explained what went down at the gas station on the day of their arrest. She says that the fight "got heated and out of hand, but never was I in fear for my safety or did I want the police involved."
TMZ reports that Mama June told the courts that Geno is "also very loving toward her kids and they are in love."
While Mama June wants to stay with Geno, members of her family are allegedly unhappy about the couple's reconciliation.
Family sources reportedly told TMZ that Mama June's family feels like Geno is a bad influence on Mama June, and that they worry for the safety of her 13-year-old daughter, Alana (aka Honey Boo Boo).
The new season of 'Mama June: From Not to Hot' appears to have been totally reworked to revolve around Mama June's arrest and possible drug use.
Watch the reworked trailer for Season 3 below!
#MamaJune #FromNotToHot is new TONIGHT at 9/8c. pic.twitter.com/JB3zz9ak6f

— Mama June: From Not to Hot (@MamaJune_WEtv) March 22, 2019
RELATED STORY: WEtv Releases Statement Regarding Drug Arrest of Mama June Shannon & Geno Doak
(Photos: WEtv, Instagram)