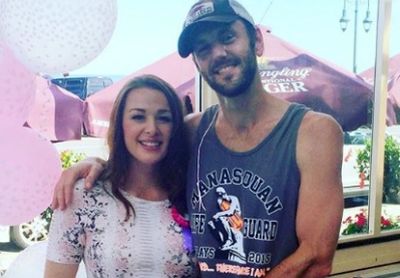 The first Married at First Sight baby is here!
Jamie Otis and Doug Hehner, who met and married on the first season of the reality show, welcomed their first child on Tuesday, a daughter that they named Henley Grace.
Henley was born at 5:24 a.m., weighed in at 8 lbs., 2 oz., and measured 20.2 inches long.
"Mommy and baby are doing well and Daddy is in pure bliss," Jamie's rep told People.
Henley is the first baby born to a couple who met and married on 'Married at First Sight.'
Jamie told People in February that she and Doug had picked the name "Henley" for their daughter because of something that happened on their wedding day (which was, of course, also the same day they met!) Jamie had guessed "Henley" when Doug asked her what his last name was.
"When Doug and I first got married — we were married at first sight, so we didn't obviously know each other very well — and the first morning, we wake up and he goes, 'You're Jamie Nicole Otis, and I'm …' 'Douglas Edward Henley?' " she told the magazine
She may be just a few hours old, but Baby Henley already has her own Instagram account (naturally.) Jamie and Doug have posted some cute pics of her first hours of life.
This is the first child for the couple, who have been married since 2014. Last year, they tragically lost a baby to miscarriage during Jamie's second trimester of pregnancy. They have continued to honor the baby, whom they named Jonathan.
Check out the cute photo of Baby Henley with her Daddy.
(Photos: Instagram)