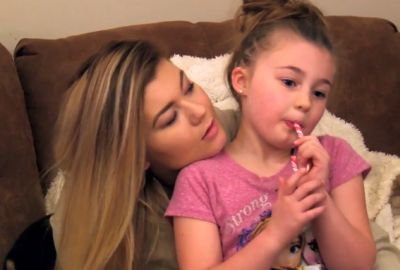 Amber Portwood met her new boyfriend Andrew Glennon a few months ago while filming Marriage Boot Camp: Reality Stars and, while the Teen Mom OG star has said that he has since visited her in Indiana, she has not revealed if Andrew has met her eight-year-old daughter Leah yet.
While Amber has kept that info on the down-low, her boyfriend accidentally revealed the answer in a recent post to his Instagram post, and The Ashley spotted it!
On Sunday, Andrew posted a photo taken at a car show, showing a 1960s Cobra. While the car is the main focus of the photo, Amber's daughter, Leah, manages to sneak into the photo a bit. A photo posted to Amber's own Instagram a few days ago shows Leah wearing the exact same outfit.
When 'Teen Mom OG' fans had called Amber out on Twitter earlier this month for introducing Leah to too many guys, Amber had made it seem like she had not introduced Leah to Andrew.
"I only brought Matt in and we were together over 3 1/2 years," she wrote.
Amber's ex, Gary Shirley, has yet to comment publicly about Amber's latest relationship.
The Ashley was the first to bring you the name of Amber's new man, Andrew, as well as all the details on him. (You can read about Andrew by clicking here!)
See the photos in question below!
(Photos: MTV, Instagram)