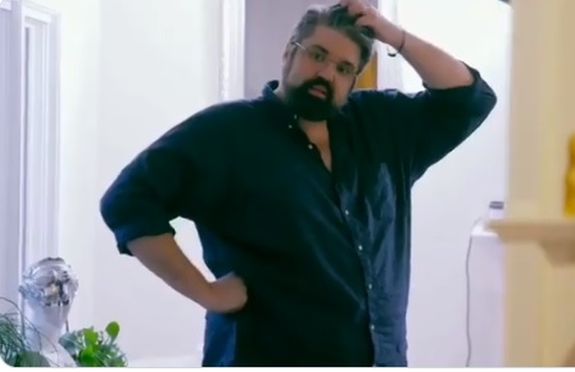 Andrew Glennon is speaking out after the brother of his ex-girlfriend— Teen Mom OG star Amber Portwood—- posted some tweets about him over the weekend.
As The Ashley previously told you, Amber's brother Shawn recently took to Twitter to defend Amber and discuss her July 2019 arrest for domestic violence against Andrew. One of the tweets– in which Shawn stated that Amber does not owe Andrew an apologize and that Amber is guilty of "nothing more than throwing a flip flop at him"— seemed to particularly bother Andrew.
In an exclusive statement to The Ashley, Andrew responded to what Shawn said about him, and denied that Amber was only guilty of whacking him with a shoe.
He pointed to audio and video that has been released from the night of Amber's arrest as evidence that, in his opinion, what Shawn said in the tweets was not accurate.
"If you look at the time on the front door Ring cam [footage] of her hitting me with a shoe and me leaving the house a second time to let her cool off vs when I contacted the police for the deadly weapon attack, you'll see they are 3+ hours apart," Andrew said. "For one to downplay the trauma that I am still trying to process is disgraceful."
Shawn has stated on Twitter multiple times that Amber never attacked Andrew with a machete, as the police report taken that night states.
Absolutely zero proof that this is a result of what was claimed. All the cameras and audio in the house and no proof at all of the alleged attack with a "machete" taking place. Zero. In the USA that means you are not guilty.

— Shawn Portwood 🇺🇸 (@ShawnPortwood) May 11, 2020
Andrew then brought up the fact that, following her arrest, Amber insinuated on social media and during an on-camera interview with Dr. Drew Pinsky for a 'Teen Mom OG' Reunion episode that Andrew had been cheating on her.
"If a heartfelt apology was made instead of some bogus cheating story, we'd probably be in couples therapy, but blame and deflect was the route chosen," Andrew said. "The denial or attempted justification of the actions committed hurts just as much as the abuse.
"To say something never happened while I struggle with the memories daily is beyond comprehension and I've no time for it."
When one fan asked why— if Amber was not guilty of assaulting Andrew– she accepted a plea deal, Shawn admitted that Amber "wasn't completely innocent of everything."
"[She] pled guilty to intimidation for throwing a flip flop" at Andrew, Shawn wrote, which he said Amber admitted to police from the start. Shawn also argued that the flying flip-flop incident didn't happen "while [Andrew] was holding her son either."
Amber and Andrew— who share son James— currently have a custody plan in place that allows Amber time with her son. (James currently lives with Andrew inside Amber's Indiana home, while Amber lives in a rental house.) Their last mediation status report was filed on April 23, and it appears that no changes were made at to the existing custody order at that time.
RELATED STORY: Shawn Portwood Defends Sister 'Teen Mom' Amber Portwood on Social Media: Says Amber Is Guilty of "Nothing More Than Throwing a Flip Flop" At Andrew Glennon
(Photos: MTV, Instagram)