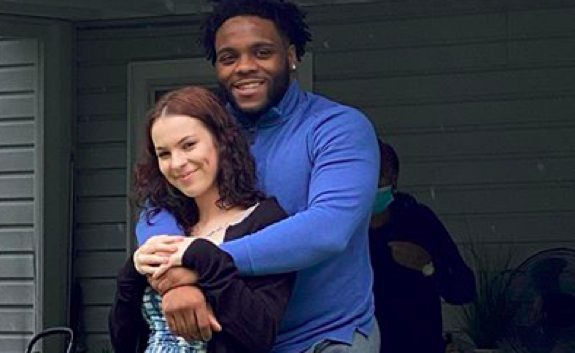 Another Unexpected baby is on the way!
(Let's be honest, at this point these pregnancies are a lot less unexpected.)
Lilly Bennett of 'Unexpected' Season 1 has revealed that she's pregnant with her second child— a boy. (She is already the mother of two-year-old daughter Aaliyah by her ex-boyfriend James.)
Lilly shared the pregnancy announcement on Instagram on Monday, along with photos of her and her boyfriend Lawrence— who is the father of her second child— at their gender reveal.
"EXTREMELY excited to announce my SON coming November 2020," Lilly wrote.
Lilly, now 19 years-old, was only 16 when viewers saw her welcome Aaliyah on the TLC show. She and her first baby daddy, James, broke up shortly after Aaliyah was born. Lilly did not continue on with 'Unexpected' after the first season aired.
According to Starcasm, Lilly's new man was a "standout high school athlete who graduated last year." Lilly told the site that she and Lawrence have been together for a over a year.
Lilly's former co-stars their excitement for her in the comment section of her post.
"OMG congrats mama!!! So happy for you," Lexus Scheller— who appeared on Season 1 with Lilly— wrote.
"Yay! Congratulations" Season 2 mom Laura Barron added.
Lilly's other Season 1 co-star, McKayla Adkins (also a mom of two) expressed her excitement with emojis.
Lilly's family members are also excited for the new addition to the family. Her brother Thomas posted on Facebook, "I get to be an uncle to another sweet baby! And this time, it's a boy!! I have the coolest uncles on planet Earth, so I've got some big shoes to fill."
Lilly also told fans that her mom is so excited to welcome a new grandbaby.
Unlike its MTV counterpart, 'Unexpected' has had a lot of turnover in the cast. Season 1 featured Lilly, Lexus and McKayla; Lilly did not come back for Season 2, Lexus did not come back from Season 3, and earlier this year, McKayla announced that she would not be filming for Season 4 – making an official 'Unexpected' cast turnover. (Later cast members Rilah Ferrer also claims she will not return for another season, as does Chloe Mendoza.)
Fans of 'Unexpected' may remember Lilly for coming across as bit naive during her season.
"No one ever told me that it was so easy to get pregnant," she shockingly admitted in her premiere episode.
Later, when her mom tried to tell her that she might want to wait until she's married to give her daughter James' last name Lilly responded, "Well, I'm married in my head." Meanwhile, James was decidedly not married in his head telling his mother, "it's not a promise ring. She told me she wanted a ring, so I got her one."
James has not commented publicly on his ex's pregnancy.
RELATED STORY: 'Unexpected' Dad Max Schenzel Pleads Guilty to Felony Charge Stemming From February Car Theft
(Photos: Instagram)