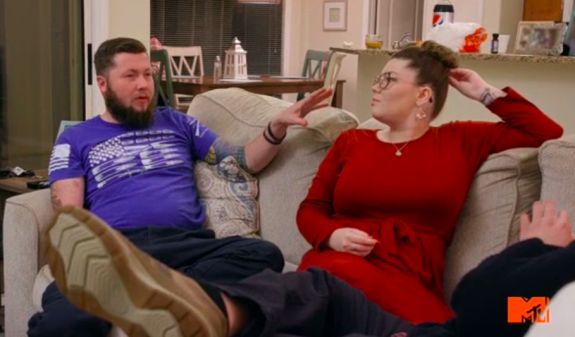 Hell hath no fury like a Bubby on the defense!
Shawn "Bubby" Portwood, brother of Teen Mom OG star Amber Portwood, came to his sister's defense Friday on Twitter after some of the show's fans criticized Amber's latest love interest, parenting skills and her tumultuous (and violent) past with ex-boyfriend and baby daddy Andrew Glennon.
Many of the anti-Amber comments on Twitter rolled in as a response to stories The Ashley has reported on in the last week about Amber donating 1,000 masks to a hospital in Indiana and about Amber's baby daddy Gary Shirley supporting her after her domestic violence arrest.
In response to an individual who tweeted that the best thing Amber could do is take responsibility for her actions and apologize to Andrew for what went down on the night of her July 2019 arrest, Shawn said no such apology is necessary.
"Honestly and I'm sure a lot of people will say I'm victim-shaming again but [if I were Amber] I would not publicly apologize to him for anything," Shawn wrote. "Nothing more than throwing a flip flop at him. Because everybody doesn't know the entire story they know his story."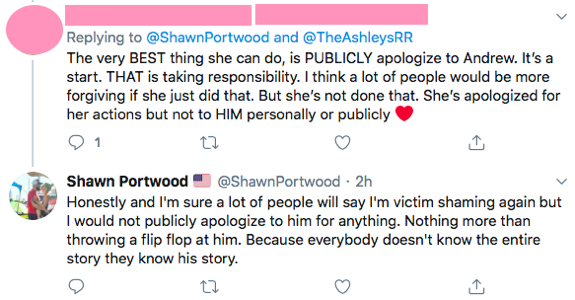 For those unfamiliar with the story he's referring to, Amber was arrested for domestic battery against Andrew in July 2019 after she assaulted and allegedly pulled a machete on him. Amber eventually took a plea deal and was sentenced in October 2019.
When one fan asked why— if Amber was not guilty of assaulting Andrew– she accepted a plea deal, Shawn admitted that Amber "wasn't completely innocent of everything." He then brought it back to the flip flop.
"[She] pled guilty to intimidation for throwing a flip flop" at Andrew, Shawn wrote, which he said Amber admitted to police from the start. Shawn also argued that the flying flip-flop incident didn't happen "while [Andrew] was holding her son either."
When followers began to take swings at Amber's parenting skills, as well as the amount of time she spends with her kids (which include daughter Leah with Gary Shirley and son James with Andrew), Shawn ensured them that Amber sees her children often.
In response to a tweet suggesting that Amber have her kids full-time "like normal parents do" and that she put her kids before her new man, Dimitri Garcai, Shawn slammed the individual for making what he called "an ignorant statement." He stated that Amber has to split custody because she has a child with someone she's not currently in a relationship with.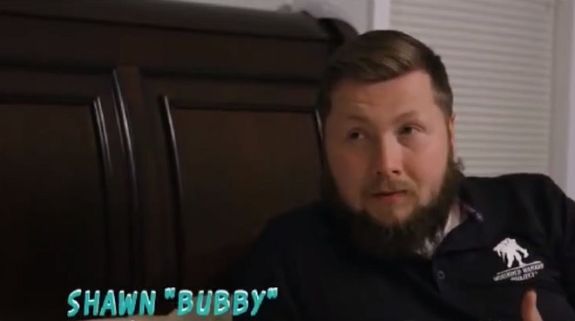 (In a recent statement, Gary confirmed that Amber spends a lot of time with both James and Leah. The Ashley can also confirm this.)
Another comment echoed similar statements while also bringing up Amber's new boyfriend, who made his 'Teen Mom OG' debut this week. Again, Shawn was quick to come to his sister's defense.
https://www.instagram.com/p/B5sVUe4FpqK/?utm_source=ig_web_copy_link
"And the new boyfriend is a REAL BAD LOOK.. ," the comment read. "He doesn't even speak English and she can't even [see] her son but worried about sleeping with some one new.. GROSS!!"
"Where do you get your information from?" Shawn responded. "She sees her son all the time," Shawn argued. "She sees her son right now the exact same amount that Andrew sees him."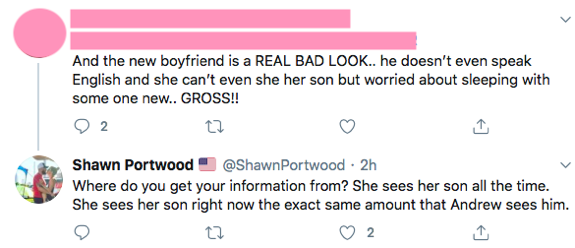 As for Gary's decision to support Amber both on- and off-camera following her domestic violence arrest, Shawn took a moment to give Gary and Gary's wife Kristina a shout-out for supporting Amber through this.
"@ItsGaryTime
and his wife are good people and I am glad they are there to help her while I cannot. I cannot thank them enough for how they have helped her during this and giver her the support she needs when no one will," Shawn wrote.
He then resumed fighting off his sister's many haters, stating that, despite what some may think, Amber does feel remorse for her actions against Andrew.
"She has taken responsibility for what she did. She said two episodes ago that she was disgusted and basically embarrassed by the way she acted. But yet people keep saying she's not owning up to it and she's not doing what she supposed to."
UPDATE! Andrew has released a statement to The Ashley in regard to what Shawn tweeted. Click here to read what Andrew had to say.
RELATED STORY: 'Teen Mom OG' Dad Gary Shirley Breaks His Silence: Explains Why He Supported Amber Portwood After Her Domestic Violence Arrest & Gives Update on Her Parenting
(Photos: MTV; Instagram; Twitter)