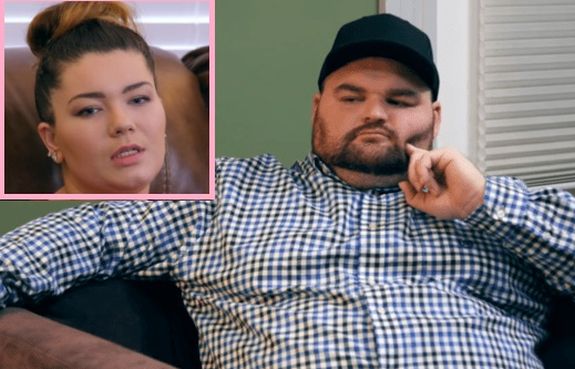 Gary Shirley has caught a lot of flak for supporting his baby mama, Amber Portwood, following her July 2019 arrest and through domestic violence court hearings. On Tuesday, the Teen Mom OG dad attempted to explain to the show's fans why he has remained in Amber's corner, despite her crimes and bad behavior.
In a comment posted to the official 'Teen Mom' Instagram page, Gary— who shares 11-year-old daughter Leah with Amber— gave a detailed statement regarding his own feelings about what Amber did, and why he and his wife Kristina continue to support Amber and have tried to help her to become a better person for herself, Leah and James, her son with Andrew Glennon.
In his statement, Gary wrote about the status of the relationship between his family and Amber, noting that Amber is very much a part of both of her kids' lives.
"In support of Leah, having both her parents is very important," Gary wrote. "Amber's happiness is a huge key to her children's happiness. Amber comes over regularly with James for visits to see Leah and our family. When James sees Leah his eyes get big and he runs to her…Amber is always saying, 'Are you sure you don't mind? I don't want to intrude.' However, we encourage her to visit and this also gives us a chance to see little man (baby James.)"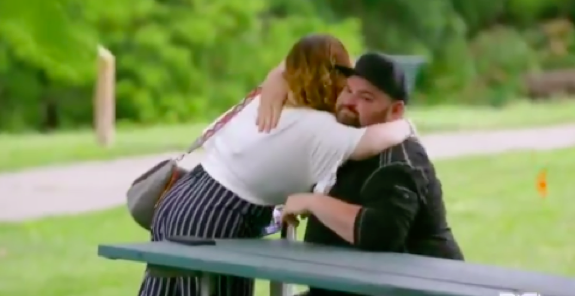 Gary then went into the reasons he continues to support Amber, writing that Amber has finally come to realize the severity of her past actions.
"Amber made some heller mistakes and is PAYING for them and getting the help she needs, and for that I'm thankful," Gary wrote. "She knows this CAN'T happen again."
He also made it clear that, just because he is there for Amber, he does not agree with what she did. (As 'Teen Mom' fans know, Gary was also suffered domestic violence at the hand of Amber during their relationship.)
"My support doesn't mean I condone her actions towards Andrew. Domestic violence is NEVER OK," he wrote, adding that his support for Amber is more for her kids' sake than hers.
"In the end I want to know I did everything I could to help my daughter & James. Supporting their mother HAS to be part of that. I'm proud of the steps Amber has taken for herself and for her kids. She has come a long way."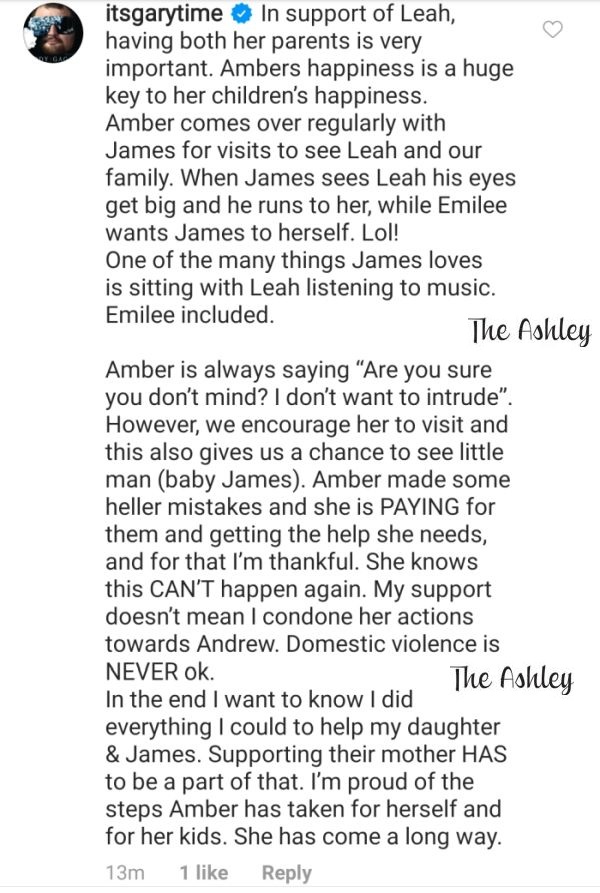 This marks the first time Gary has really spoken out in detail since Amber was arrested last year following an attack on her other baby daddy, Andrew Glennon, at their home in Indiana. Amber was arrested after assaulting and allegedly pulling a machete on Andrew. She eventually took a plea deal and was sentenced on October 31, 2019, with Gary, Kristina and an MTV film crew at the courthouse that day. (Click here to read what she was sentenced to.)
On recent episodes of 'Teen Mom OG,' Amber has been seen going to a psychiatrist and therapist, and working on her anger management.
Over the weekend, Amber's brother Shawn "Bubby" Portwood also defended her on Twitter.

"She has taken responsibility for what she did," Shawn tweeted. "She said two episodes ago that she was disgusted and basically embarrassed by the way she acted. But yet people keep saying she's not owning up to it and she's not doing what she supposed to."
RELATED STORY: 'Teen Mom OG' Star Amber Portwood Donates 1,000 Masks to Indiana Hospital: "It's Just a Nice Gesture"
(Photos: MTV; Instagram, Twitter)