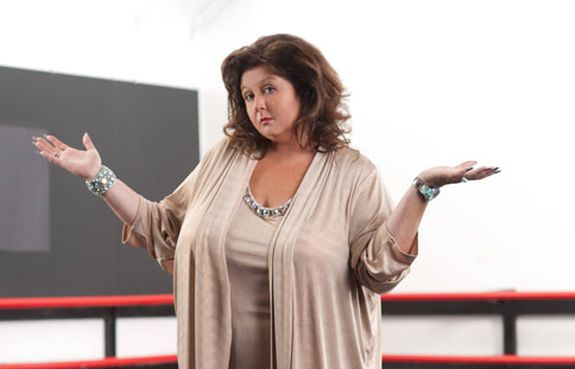 Abby Lee Miller is saying goodbye to Dance Moms (this time, for good) after nine years, countless dance routines and just as many on-screen blowups.
The founder of The Abby Lee Dance Company announced her departure from the show Monday on Instagram. In her post, Abby shared a throwback photo of herself from nine years ago when the show was filming in Arizona and she decided to sign a contract.
" … Satan stuck a pen in my hand insisting that I sign a contract," she wrote in the photo caption. "I was at the competition, literally in front of the stage, rehearsing a routine. I was kinda busy! But the show must go on, right? I did my 8 seasons, 2 spin-offs and now a new self-contained competition show in the midst of our global pandemic."
Abby went on to thank Lifetime "for an incredible run" before confirming that she has decided to move on and not extend her agreement to continue filming 'Dance Moms.'
"The next few weeks will be about exploring new projects at a new home," she continued. "It's an exciting time and more announcements to come!"
https://www.instagram.com/p/B_xjp7_geuc/?utm_source=ig_web_copy_link
Abby's legacy at Lifetime includes six-and-a-half seasons of hosting 'Dance Moms' before she was briefly replaced, only to return for the show's eighth season. Abby's absence was a result of bankruptcy fraud charges, for which she was indicted in 2015; in 2017, she began her 366-day sentence in federal prison.
A month after her release, Abby was diagnosed with Burkitt Lymphoma, a type of Non-Hodgkin's Lymphoma. What followed was a strenuous road to recovery for Abby, one that involved having part of several vertebrae removed to relieve pressure from her spinal cord, 10 rounds of chemotherapy and a spinal tap on 10 different occasions.
Abby clarified in the comment section of her post on Monday that she was not breaking her contract with Lifetime, as the contract expired on April 30. She also informed her fans that Dance Moms: Abby's Virtual Dance Off, is still happening.
Guess who's back?! I will officially be hosting #AbbysDanceOff on @lifetimetv. Submit your best dance and one winner per episode will be named. For the Official Rules and guidelines, visit: https://t.co/7DqPrsFTZI #DanceMoms #ALDC #aldcalways #thebestisyettocome pic.twitter.com/QLBePL0Qtj

— Abby Lee Miller (@Abby_Lee_Miller) April 27, 2020
Abby assured some skeptical fans that she was not leaving 'Dance Moms' due to the show's ratings (which are good).
"We were [Lifetime's] 2nd highest rated show!" Abby told one nay-sayer, adding that 'Dance Moms' "saved Lifetime" back in 2011.
Despite Abby appearing to be leaving Lifetime on good terms, replies to some of her followers suggest there may be some bad blood between her and the network. In addition to seemingly co-sign some of her fans' comments — including stating that Abby and the dancers were "overworked and underpaid" — Abby revealed in one reply that the network continued to extend her contract so should couldn't "do anything else."
"I did not quit (this time) my contract is up and they keep extending it so I can't do anything else," she claimed. "I haven't worked in eight months they just want me to sit around and do nothing and not work for anybody else!"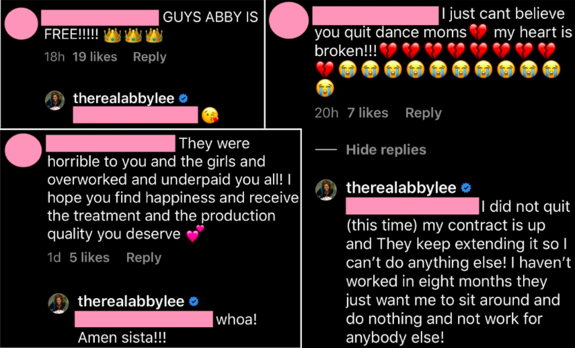 In another comment, Abby chided Lifetime for not putting together a ninth season of the show, but keeping her under contract anyway.
"@Lifetimetv had 8 months to begin shooting Season 9 with an incredible cast of kids & moms… we were their 2nd highest rated show!" Abby wrote. "They just kept extending my contract a few months at a time instead of ordering another season!"
Abby made it clear in the comment section of the post that she is not saying 'Dance Moms' is over…just that she will no longer be a part of the show. Lifetime has yet to release any sort of statement regarding Abby's departure or the future of 'Dance Moms.'
RELATED STORY: 'Dance Moms' Star Abby Lee Miller Says She Was Treated Worse in Prison Due to Her Celebrity Status; Discusses Cancer Battle
(Photos: Lifetime; Instagram; Twitter)