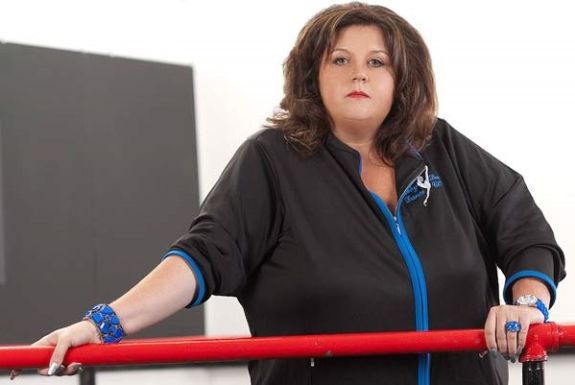 Abby Lee Miller may be out of prison, but the former Dance Moms star is facing yet another uphill battle.
According to Abby's orthopedic surgeon, Dr. Hooman Melamed, the reality star has been diagnosed with a form of Non-Hodgkin's Lymphoma.
Earlier this week, Page Six reported that Abby, 51, was originally thought to be suffering from an infection in her spine that left her temporarily paralyzed. (She was taken from the halfway house she had been staying at to the hospital on April 10 for what was, at the time an "unspecified medical complaint.")
On Tuesday, Abby underwent an nearly five-hour surgery in which Dr. Melamed had to remove part of several vertebrae to relieve pressure on Abby's spinal cord.
"If we didn't do something, she was going to die," Dr. Melamed told People. "Her blood pressure was bottoming out. She was not doing well."
However, Abby's medical issues were not being caused by an infection, as the medical team originally thought.
"It was not an infection; it was a type of a non-Hodgkin's lymphoma," Dr. Melamed told People on Wednesday. "We're getting an oncologist involved and we have to figure out what the next steps are as far as chemotherapy or radiation or more spine surgery.
While Abby's pathology tests are still pending, Dr. Melamed stated that it's likely that she has Burkitt Lymphoma.
"There's a chance this can spread to any part of the body…this is probably coming from somewhere else," he told People. "We don't know where the source is. Any tumor that spreads anywhere is automatically Stage 4, but we have not determined the stage yet."
Abby has yet to speak out about the diagnosis and has remained silent on her social media accounts. However, Entertainment Tonight interviewed Dance Moms' breakout star JoJo Siwa about Abby Lee's condition.
"I actually went down to the hospital to see her," JoJo told the site. "She's not good, but she luckily is in good spirits. She's not 100 percent on what's going on right now, which is not the bad thing. She's definitely in good spirits, but it's so heartbreaking to see what's going on. It's so, so heartbreaking."
"She is very sick, she's very ill," JoJo added. "I don't know if it's officially announced that she has [cancer] or if she's keeping that private, but what she has is a very bad thing and you don't want anyone going through that."
JoJo said Abby Lee is not as mean as she appears on TV, and that she hopes she gets better soon.
"I was just telling her, people see her as the scary lady who yells at kids on TV, but it's not true, and she is a person first of all, and she's loving," she said. "She is caring; she taught me so many things that I'm so grateful for that it's so hard to see her go through that and being sad, and just lying there and trying to cry, but physically not being able to. She just kind of, like…she would start to cry…and then she would just stop."
If the reports are true and Abby Lee does have Burkitt Lymphoma, she will have a long road ahead of her. Burkitt Lymphoma is a cancer that grows in immune system cells called B-cells. It is one of the fastest-growing tumors in humans; if left untreated, Burkitt Lymphoma can be quickly fatal, according to WebMD.
These health issues are just the latest difficulty for Abby, who has not had a very good year. She spent 259 days in prison for bankruptcy fraud and is supposed to spend the remainder of her 366-day sentence in a halfway house. It is unknown how Abby's medical issues will affect her sentence.
(Photo: Lifetime)