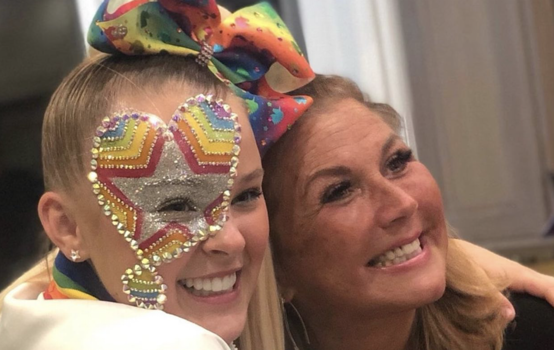 Former Dance Moms star JoJo Siwa has received some words of encouragement from her former dance instructor, Abby Lee Miller, days after revealing she is part of the LGBTQ community.
Abby took to Facebook Saturday to express how proud she was of the 17-year-old "triple threat."
"I always knew the world would be a more colorful, positive, sparkly place with a kind, loving, dazzling triple threat like you in it – a shining example for the kids out there to live their BEST lives each day," Abby wrote.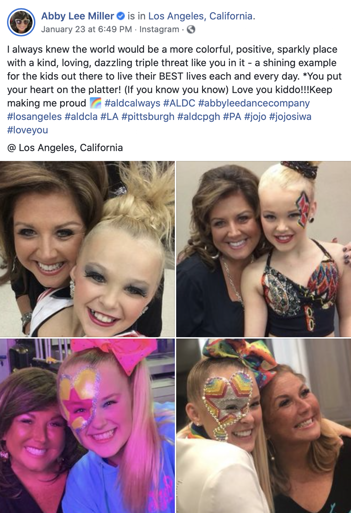 "You put your heart on the platter! (If you know you know) Love you kiddo!!! Keep making me proud," she added.
Abby and JoJo have continued to support each other following JoJo's run on 'Dance Moms.' JoJo even visited Abby in the hospital in 2018 as Abby battled cancer, presenting her with a $10,000 donation through the charity Dancers Against Cancer.
JoJo confirmed Saturday night on Instagram Live that she was part of the LGBTQ community, days after posting a TikTok of herself lip-syncing to Lady Gaga's "Born This Way" and a day after sharing a photo on Twitter of herself wearing a shirt given to her by her cousin that read "Best. Gay. Cousin. Ever."
My cousin got me a new shirt pic.twitter.com/DuHhgRto7b

— JoJo Siwa!🌈❤️🎀 (@itsjojosiwa) January 22, 2021
Many began to speculate that JoJo had officially come out and on Saturday, she thanked fans for the positive reception she had received, revealing she has "never, ever, ever been this happy before and it feels really awesome."
"I've been happy for a little bit now," JoJo added. "It's just so, so, so awesome."
JoJo went on in her Instagram Live to answer a few questions from fans, including one who asked JoJo about her label within the LGBTQ community.
"I have thought about this, but the reason I'm not going to say this answer is because I don't really know the answer," she responded. "I think humans are awesome, I think humans are really incredible people. Right now, I'm super duper happy and I want to share everything with the world, but I also want to keep things in my life private until they are ready to go public.
"Right now what matters most is that you guys know that no matter who you love, that it's OK," she continued. "It's awesome and the world is there for you. There are so many people that are there for you. I know everyone's situation is different and it might be harder for some people and easier for some people to come out or be themselves, but I think coming out has this stigma around it, that it's this really, really scary thing, but it's not anymore."
JoJo assured her fans it's OK "not to be normal, it's OK to be a little different, it's OK to be a little weird, strange, different."
"That's something we should never, ever be afraid of," she added. "That's something we should be proud of … I'm the happiest I've ever been, that's what matters."
Another fan asked JoJo how long she had been part of the LGBTQ community, to which she replied, "I don't know, I think my whole life."
"Because my whole life … I just liked people, but I've never fallen in love before," she said. "But I always believed that my person was just going to be my person. If that person happened to be a boy, great! If that person happened to be a girl, great! I'm just really happy. I think in life you know when you meet your person. I really do."
Later in the video, JoJo told fans her "parents have known," noting that her mom has known for about two years.
" … About two years ago, she was like, 'I don't think you only like boys and that's totally OK,'" JoJo said. " … My family is awesome."
The former 'Dance Moms' star concluded her video with some advice she received from her dad: "love is universal." She also included some advice of her own.
"If I can give you any advice, do what makes you happy," she said. "Do whatever it is that makes you happy."
Watch JoJo's full Instagram Live video below!
RELATED STORY: Abby Lee Miller Issues Apology After She's Accused of Making Racially Insensitive Remarks to Former 'Dance Moms' Stars: Lifetime Yanks 'Abby's Virtual Dance Off' in Response
(Photos: Facebook; Instagram; Twitter)