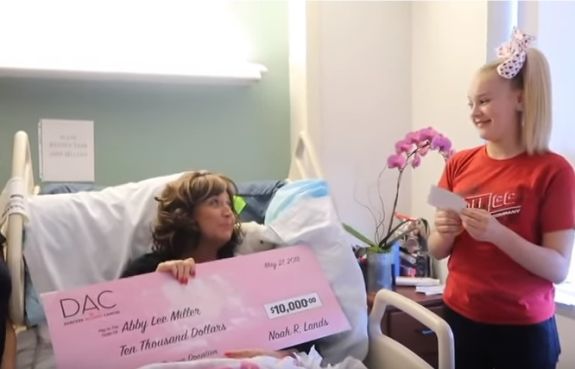 Abby Lee Miller is currently stuck in the hospital while battling cancer, but the former Dance Moms star had her day brightened by a visit with old friends– and a $10,000 check!
In a video posted to her YouTube channel, Abby's former student, JoJo Siwa, told her followers that she was heading to the hospital to visit Abby and surprise her with a donation that she helped orchestrate through the charity Dancers Against Cancer.
"In case you don't know I was on a show called 'Dance Moms' for two-and-a-half-years and it was the best experience of my life," JoJo says in the intro of the video. "Abby Lee Miller, she was the leader on the show… Abby Lee was recently diagnosed with cancer and it is so sad. But on the bright side, she is probably one of the toughest, strongest human beings that I know."
As The Ashley previously reported, Abby was recently diagnosed with a form of Non-Hodgkin's Lymphoma. The diagnosis came while Abby was staying at a halfway house and under state custody. (She was released from federal prison in March, but earlier this week she was officially released from custody and paroled.)
Anyway, JoJo told her followers that she's positive her former instructor will beat cancer.
"She's got this because she's Abby Lee. Nothing can break Abby Lee!" JoJo said.
JoJo then discusses the $10,000 donation that she and reps from Dancers Against Cancer plan to give Abby during the hospital visit.
"One very big company that is supporting her is called Dancers Against Cancer. Dancers Against Cancer is presenting Abby today with a huge donation and I helped connect the two together," JoJo said. "Abby doesn't know that they're coming and they're coming to surprise her."
Later, JoJo & Co. head to Abby's hospital room, where they find Abby in bed, wearing what appears to be a wig and one of JoJo's signature giant bows. JoJo presents Abby with a few gifts, including a bag of popcorn straight from the movie theater and a blanket with JoJo's face on it.
JoJo then tells Abby that they have one more surprise for her, and Abby tells her former student that she doesn't need anything else.
"I just want you to come visit," Abby says.
Abby tears up at the sight of her old friend, Michelle, who works with Dancers Against Cancer. However, Abby seems to still have no idea why Michelle is there. That's when the other members of the Dancers Against Cancer team enter the room with a giant pink check.
"We're here to spread a little hope to you and let you know that you're not alone," one of the reps tells Abby. "We're fighting right along side of you, Abby."
Abby broke down in tears as she talked about how hard her cancer battle has been so far.
"It's horrible," Abby said, adding that both of her parents died of cancer. "I knew it was only a matter of time [before I got cancer] but I didn't think it would be now."
It's then announced that JoJo recently raised $17,500 on her own for Dancers With Cancer in one afternoon by donating a few dance classes to a fundraiser.
Abby did not say what she will use the donated money for, but it's likely it will go toward paying for her cancer treatment. As The Ashley has previously reported, Abby must pay a variety of fines as part of her probation, so she is likely a bit strapped for cash at the moment. According to People magazine, Abby is currently undergoing chemotherapy. 
Watch JoJo present the check to Abby in the cute video below!
(Photos: YouTube, Instagram)