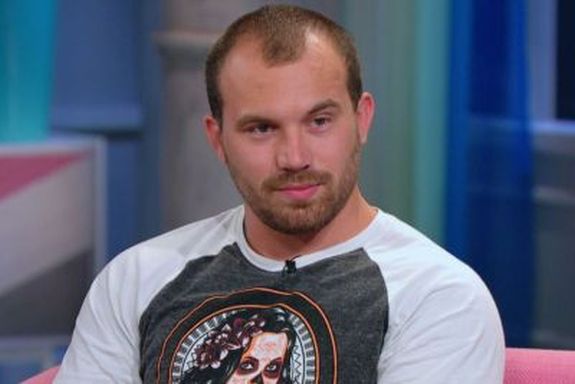 Adam Lind is spending Memorial Day at his home away from home– a South Dakota jail cell!
The Teen Mom 2 dad was arrested (again!) early Monday morning on three charges: violating a protective or no contact order; violating a domestic stalking protective order and not paying child support.
Radar Online broke the news of Adam's latest arrest. The site also revealed last month that a warrant had been issued last month for Adam's arrest.
(The Ashley can confirm, according to county records, that warrant was issued due to his alleged violation of a no-contact/protective order.)
At press time, Adam was still resting comfortably in a Minnehaha County jail cell, where he's being held without bond. Once a judge sets his bond, Adam will be able to bond out. However, as The Ashley previously told you, Adam has been experiencing some financial problems lately– go figure– and even had to move back in with his parents, so scrounging up bond money may pose a challenge for the 'Teen Mom 2' bad dad.
Anyway, it is not currently known which protective/stalking order Adam allegedly violated to land himself behind bars. As far as The Ashley is aware, two women currently have protective orders against Adam: his ex-girlfriend Brooke Beaton, who accused Adam of stalking her back in 2014; and his ex-fiance Stasia Huber, who, in December 2017 was granted a five-year restraining order against Adam.
Back in December, Adam landed himself in jail for violating the no-contact order that Brooke had against him.
Chelsea Houska, who is the mother of Adam's oldest daughter Aubree, recently discussed the relationship Adam has with Aubree. During an appearance on Kail Lowry's Coffee Convos podcast, Chelsea confirmed that Adam doesn't see Aubree regularly. (After Adam failed multiple drug tests, Chelsea went to court to ensure Adam only saw Aubree at a court-supervised visitation center.)
"He has to set it up, which he doesn't," she said. "He's also allowed to have lunch at her school once a week, because his mom goes, but he just recently went to his first one."
She also talked about how she explained what's happening with Adam to Aubree.
"I wanted her to know as much as possible, in a gentle way, what was going on," Chelsea said. "I said, 'This is what's happening. Your dad's sick right now and he's not making good choices. And for that reason, and for your safety to know that everything's OK, you're going to have to see him [at the visitation center] now if he sets them up. You're going to still see your grandparents on that side."
It's highly unlikely 'Teen Mom 2' fans will see Adam's recent arrest play out on the show, as he has not appeared on 'Teen Mom 2' since Season 7. Before quitting the show, he frequently lashed out at the network and the show's production crew about not wanting to be filmed.
(Photos: MTV, Instagram)