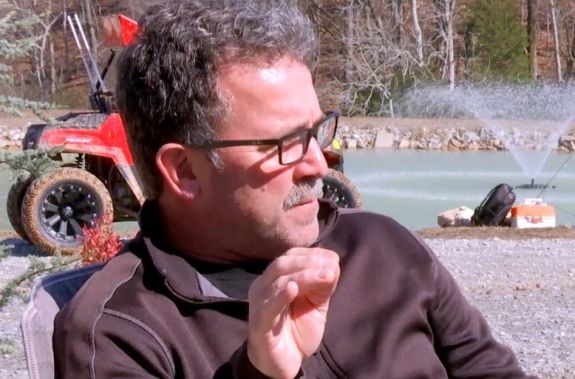 Teen Mom OG grandpa Larry Edwards is speaking out!
In a rare interview, the father of Ryan Edwards discussed his son's current status, as well as the temporary protective order that Ryan's ex, Maci Bookout, had against Ryan for the last two months.
"Ryan really missed Bentley," Larry told Radar Online last week. "He hasn't seen him, not yet."
As The Ashley recently reported, Ryan was ordered by a Tennessee court to stay at least 100 feet away from Maci, her husband Taylor McKinney, and their kids, Jayde and Maverick. Maci had requested that Bentley be included in the order, though that request was dismissed.
Larry revealed that Ryan and Bentley haven't seen each other since March, when Maci and Taylor took out the temporary protective orders. Though Bentley hasn't reunited with his dad since March, he has been able to visit with Larry and his wife Jen, per Maci's permission.
"It's been sporadic, but we have been with Bentley on a couple of weekends," Larry told Radar. "Ryan has to leave the house at the time. She's given us the opportunity to see him."
Larry added that Ryan has been supportive of his parents' visits with their grandson, as Ryan doesn't want them to "suffer" by not getting to see Bentley.
While he can now legally see Bentley, Ryan has to stay away from Maci & Co. for two years. According to court paperwork filed by Maci and Taylor, they had good reason to request the protective order against Ryan.
Both claimed that Ryan made violent threats to them as recently as March, and that in the past, Ryan had confronted them at Bentley's sporting events.
Taylor's order claimed that, earlier this year, Ryan had threatened to show up to his and Maci's house and "put a bullet in [his] head." The couple also cited Ryan's history of drug abuse as cause for taking legal action to protect their family.
According to Larry's new interview, though, "Ryan is doing fantastic" and looking forward to welcoming a son in October with his wife, Mackenzie.
"Ryan is very excited that it's a boy," Larry said. "We wanted a little girl because we don't have a little girl."
Ryan and Mackenzie have been keeping a low profile on social media for the last few months. Mackenzie recently transferred her Instagram account to a photographer, and Ryan has not posted to any of his accounts in months.
(Photos: MTV, Instagram)