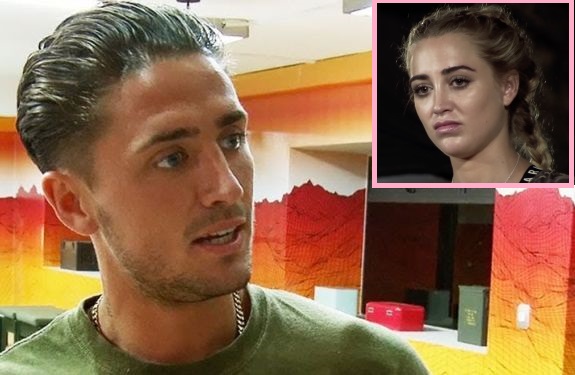 After a few weeks (and a few confusing YouTube videos), not to mention an arrest, Stephen Bear has finally released two official statements regarding his ex Georgia Harrison's claims that he made a NSFW tape of her without her permission.
The statement— which was posted to The Challenge star's Twitter account on Saturday— professes Bear's innocence while also calling out Georgia (whom he does not actually name) for "reveling in the new attention" she's garnered from the accusations she made against Bear in December.
As The Ashley previously reported, Georgia alleged Bear used the closed-circuit television (CCTV) – primarily used for surveillance purposes – in his home to record some NSFW footage of her without her consent. Georgia claims Bear showed the video to multiple people and also used it to earn a profit on his OnlyFans page.
In one of his statements posted on Saturday, Bear professed that he is actually the victim, and that he has lawyered up.
(The Ashley has left Bear's statement intact– missing words and all!)
"All accusations about that have been made in the last few weeks involving the serious crime 'revenge p0rn' and all that is linked with this horrendous action are now in the hands of a legal team.
"A victim himself— Stephen continues to face vicious trolling on social media, a crime itself that is being dealt with."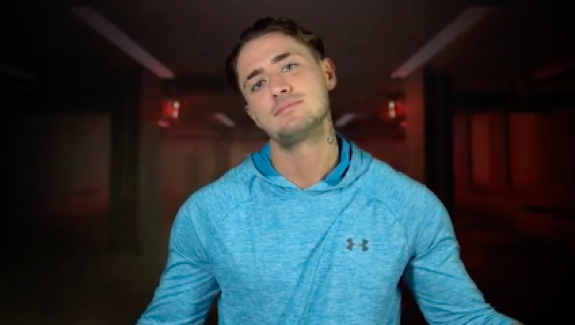 Next, the statement reminds fans that Bear— who was taken into custody last week at London's Heathrow Airport— has no official charges against him at present time. (This is, of course, directly opposite of what Bear claimed in a series of recent videos posted to his YouTube channel. In the videos, he claimed he had been hit with four charges, even though police denied it at the time.)
"To reiterate, Stephen has NOT BEEN CHARGED and is facing false guilt without any opportunities to put this right," the statement continued, before insinuating that the victim (Georgia) was enjoying the publicity this incident has given her.
"The so-called victim has named and shamed him on a daily basis— and been reveling in the new attention.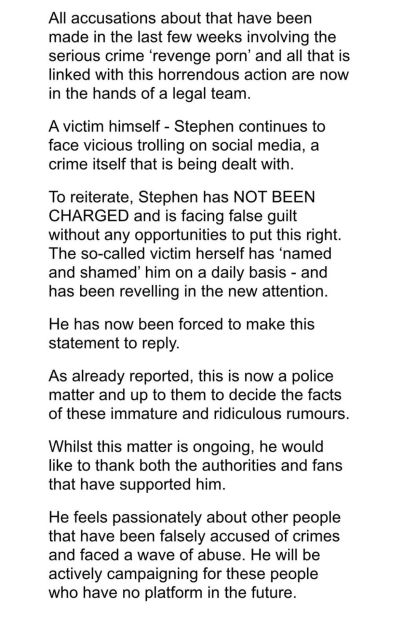 The statement says that the cops will determine the next steps.
"As already reported, this is now a police matter and up to them to decide the facts of these immature and ridiculous rumours. Whilst this matter is ongoing he would like to thank both the authorities and fans that have supported him."
The statement then promised that Bear would help prevent other people from being falsely accused of similar crimes.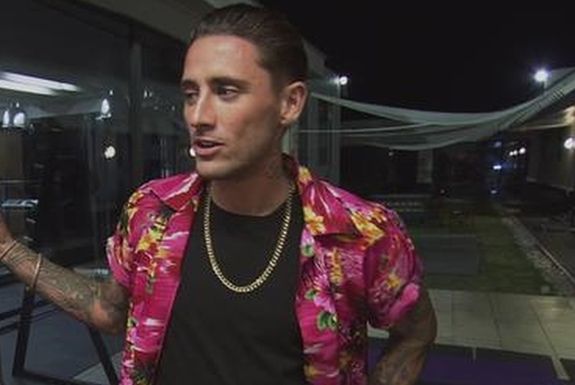 "He feels passionately about other people that have been falsely accused of crimes and faced a wave of abuse," the statement reads. "He will be actively campaigning for these people who have no platform in the future."
In another statement also posted to Bear's Twitter account on Saturday, Bear claims that Georgia was the one who identified herself in the footage in question— not him.
"It is a fact that there is unclear footage including Stephen," the second statement reads. "The person making these accusations has decided to identify herself in the video— Stephen did not.
"This outdoor footage is taken in a garden, overlooked by several neighbours in broad daylight. He hasn't set out to intentionally hurt or upset anyone. It must be clear that he has also never once identified anyone in any video footage or used their name in doing so. He vehemently denies ANY involvement in circulating video footage. To him, this is no joke."
It also claims that Bear doesn't have an CCTV cameras inside his home, so Georgia's claim would be impossible.
"Also Stephen Bear has NO CCTV in his house, and this rumour needs to be stopped now."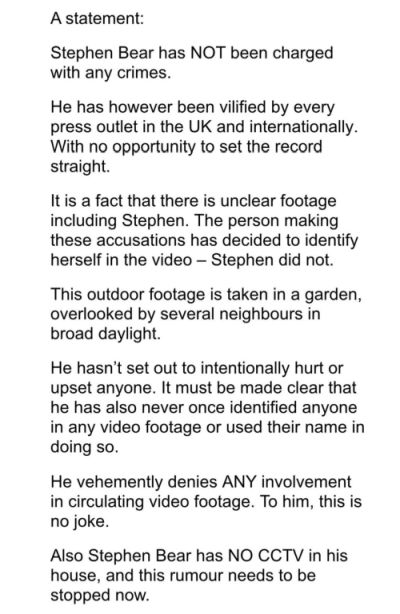 Georgia has yet to comment publicly on the remarks made in Bear's latest statements. However, on Monday she released her own statement via Twitter, thanking her fans for their support.
🙏🙏🙏 pic.twitter.com/PWfJlcMZM7

— Georgia Harrison (@georgiaharisonx) January 18, 2021
RELATED STORY: Stephen Bear Says He's Charged with 4 Crimes for Allegedly Sharing Video of Ex Georgia Harrison But Police Say Otherwise; Bear Makes Allegations of His Own In Bizarre Videos