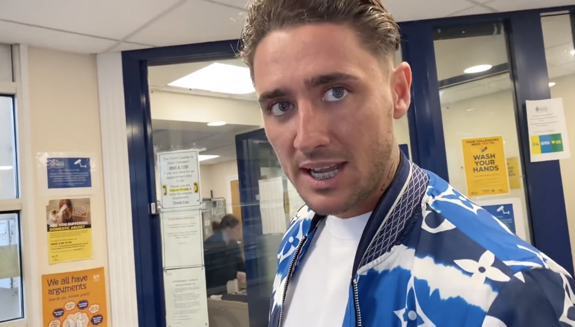 Following his arrest for revenge p0rn last week, Stephen Bear of The Challenge has released a series of videos on YouTube, claiming he has been hit with multiple charges and alleging that he has been the victim of revenge p0rn as well.
The allegations against Bear began in December after his ex-girlfriend and former "War of the Worlds"/"War of the Worlds 2" co-star Georgia Harrison posted a series of Instagram Stories threatening to have Bear sent to jail for allegedly using the closed-circuit television (CCTV) – primarily used for surveillance purposes – in his home to record some NSFW footage of her without her consent. Georgia claims Bear showed the video to multiple people and also used it to earn a profit on his OnlyFans page.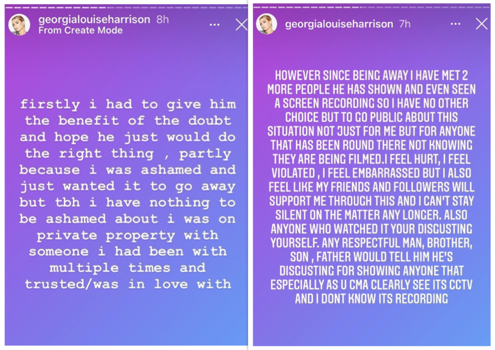 While Bear has denied Georgia's claims, he was taken into custody last week (on his birthday) at London's Heathrow Airport as he landed from Dubai. In the days following his arrest, Bear has released three episodes of his Life of Bear series on YouTube. Though the videos consist largely of Bear joking around and yelling at people on the street, he also addressed his current legal issues as well.
On the first "episode" of his self-shot (and frankly, self-serving) series, Bear shows off his "rap sheet," telling viewers he's back from Dubai and "got a criminal case over my head."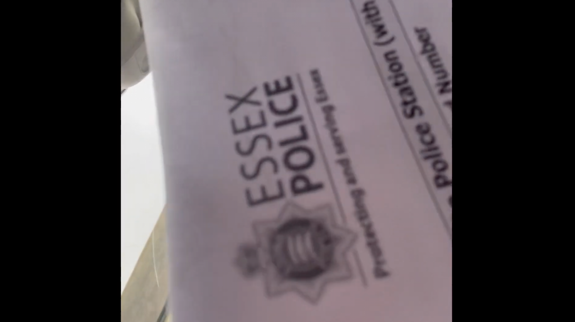 "I've been charged with some s**t, man," he continues. " … I've been charged from the Essex Police with harassment, obstruct[ing a] police officer, exposure and voyeurism."
He then addresses each of his so-called charges.
"So let's start with the first one, 'harassment,'" he begins. "Doesn't sound good, does it? 'Exposure,' not too sure what exposure kind of means. 'Obstructing a police officer,' what do you reckon I did? You reckon I got in his way or … ? And 'voyeurism.' See, the thing is with voyeurism, I think that means because I've gone to Dubai and I've gone on a voyage and I've traveled, I'm getting nicked for traveling to Dubai, because I went on a voyage.
"Do you blame Captain Cook for sailing the seven seas," Bear continued. "No you don't. So right now I can't really talk about the case because it's under investigation. I'm on bail until the second of February. Right now they've got my passport."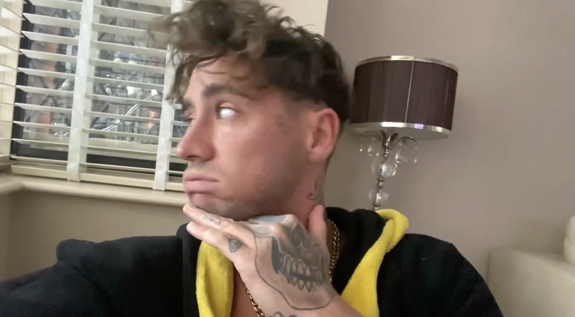 While Bear said he's been charged, Essex Police claim no one has been charged in connection with their investigation, The Sun reports.
"A 31-year-old man from Loughton, who was arrested on suspicion of disclosing private sexual images or film without consent with intent to cause distress, voyeurism, harassment and obstructing a police officer, has been released on bail until February 10," Essex Police insisted Wednesday.
Bear went on in his video to explain what happened on the day of his arrest, claiming he arrived in London on January 15 to surprise his mom, only to be met with four police officers who put him in handcuffs.
"They handcuffed me, it was quite embarrassing actually," he said. " … My name's ruined. Type 'Stephen Bear' into Google, f**kin' hell. It doesn't look good for the Bear, does it?"
After being taken into custody, Bear said he was questioned twice by police and spent about 15 hours in a cell. During that time, he claims police went into his house, smashing open his front door in the process.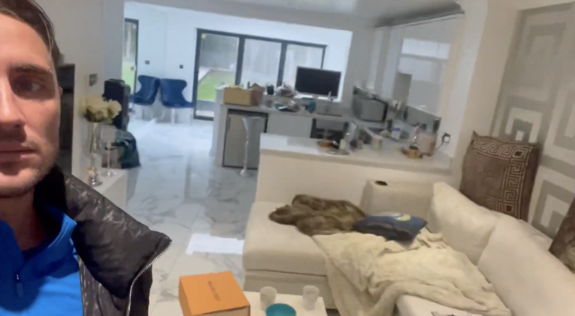 "I've had to get everything fixed," he said. "They busted my f**king front gate, as well."
In his second video, Bear explained that he has to visit the police station weekly to sign his bail agreement papers. After complaining about the gloomy weather, he whispered into the camera, "hopefully I'll be back in Dubai soon." Bear also noted that, aside from his family and one of his friends, no one has really reached out to ask if he's OK.
"It's quite a lonely road," he said. " … but I'm gonna get back on top again and everyone's opinions will change again, I just gotta ride this storm."
While driving to the police station with his father and a friend (who was filming at this point), Bear addressed the allegations against him, calling allegations of revenge p0rn "one of the worst things anyone could possibly say."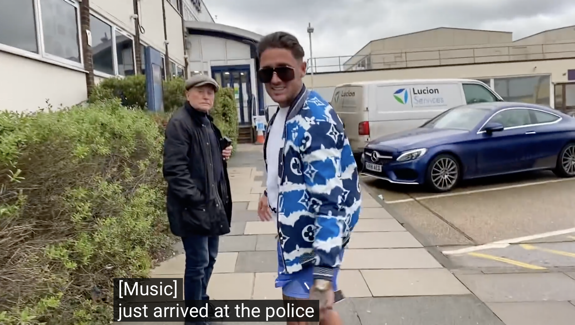 Bear then gave his interpretation of "revenge p0rn."
"Revenge p0rn is when you're showing people a video of having sex without the other person's consent," he explained. "So hypothetically, if someone's got a video of me having sex with them and let's say they show their friends after dinner … saying, 'That's Stephen Bear in the video,' you are the one doing revenge p0rn because you haven't been given consent by me for you to show videos of me. Does that make sense?
"Hypothetically, if you're running around Dubai, showing people a video of me having sex with them, you are getting done for revenge p0rn," he continued. "Because you're going around saying, 'This is Stephen Bear in a video, look at him having sex.' Right? So I've got a whole list of names who someone's going around showing videos of me to all their so-called friends. I've got a massive list of names and the police have got the whole list of names I've given them."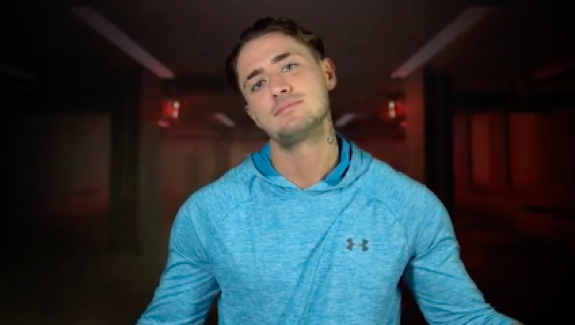 Bear maintains that he is "not the one going around showing people any video" and certain people need to remember that before they "keep using the word 'revenge p0rn.'"
Bear repeated this scenario in his third video, adding that the same rules apply to anyone who happened to be showing these videos at after parties in Dubai. While Georgia currently lives in Dubai and Bear made a point to mention a hypothetical situation in Dubai more than once, he did not name any of the alleged culprits.
He did, however, state that the allegations against him "nearly led me to take my own life, that's how serious it was."
As The Ashley told you last month, after denying Georgia's accusations, Bear posted a disturbing video (that has since been removed) that left some fans concerned for his wellbeing and others wondering if he was putting on an act. Days before he posted the video, Bear "joked" about doing "the ultimate narcissist move" – faking his suicide in order to "make everyone feel sorry for me."
On Thursday, Georgia took to Instagram, telling followers "it's taking everything I've got to keep quiet during this time."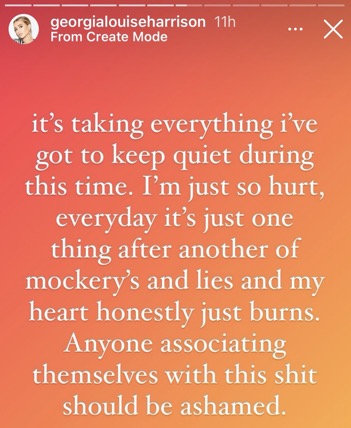 "I'm just so hurt, everyday it's just one thing after another of mockery's and lies and heart honestly just burns," she continued. "Anyone associating themselves with this s**t should be ashamed."
In another post, Georgia said she was "struggling to cope" and dealing with a lot of anxiety.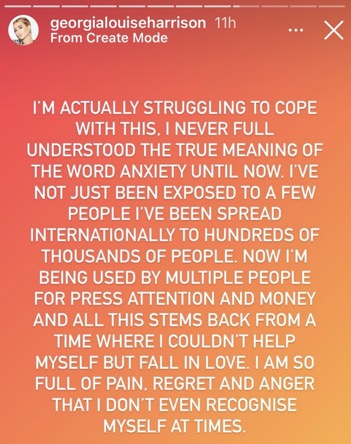 "I've not just been exposed to a few people I've been spread internationally to hundreds of thousands of people," she wrote. "Now I'm being used by multiple people for press attention and money and all this stems back from a time where I couldn't help myself but fall in love. I am so full of pain, regret and anger that I don't even recognize myself at times."
RELATED STORY: Old Episode of 'The Challenge' Omitted from Netflix Offerings Due to Footage of Female Housemates Bullying Tonya Cooley & Taking Nude Pics of Her Without Her Consent
(Photos: YouTube; Instagram)