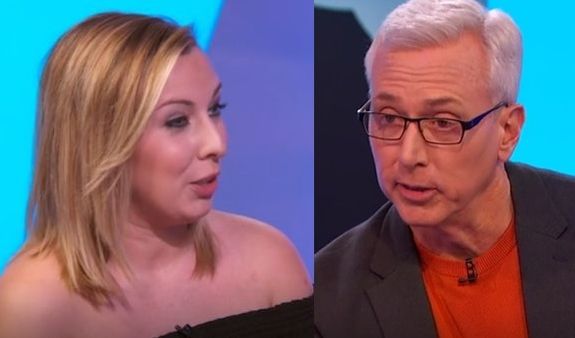 Mackenzie Edwards is coming out swinging in defense of her man on the upcoming Teen Mom OG Reunion episode!
Although Mackenzie didn't physically try to attack someone at the Reunion (a la Amber Portwood), she did get snappy at Dr. Drew Pinksy during a heated discussion over the aftercare (or lack thereof) that Mackenzie's husband Ryan is doing following his 2017 rehab stay. 
In a sneak peek clip of Part 2 of the 'Teen Mom OG' Season 7 Reunion, Mackenzie lashes out at the doctor (who is actually an addiction specialist), when he dared to question Ryan's ability to follow his doctor's orders when it comes to taking drugs that help him curb his heroin addiction.
After Drew and Mackenzie talk over each other for a few seconds, Dr. Drew asks Mackenzie "are you ready to listen to me?"
Drew's words did not set well with the 21-year-old Mrs. Edwards.
"EXCUSE ME? No, I'm not," she tells the doctor, before looking at Ryan, who looks like he'd rather be jamming red hot forks into his eyes than be on that stage.
Dr. Drew continues trying to tell the Edwards that Ryan needs to follow his doctor's directions (when it comes to taking Suboxone) "to the letter."
"Then, I could argue to Maci [Bookout] that he's under doctor's prescription, he's following it to the letter and you can check with that doctor and that doctor will take responsibility for any problems," Dr. Drew explains. "But if [Ryan's] taking [the medication] ad-lib, I can't vouch for that."
Mackenzie continues to bring the sass.
"I don't think you can vouch for anything Ryan does, honestly," Mackenzie tells the doc. "But that's just my opinion."
As The Ashley previously reported, Ryan told Dr. Drew that he was unable to do outpatient substance abuse treatment (like counseling or 12-step meetings) because he is on 'Teen Mom OG.' In the new clip, Dr. Drew expresses his concern over Ryan's lack of aftercare.
"If he's not doing any treatment, he needs to be on medication management," Dr. Drew says.
Part 2 of the 'Teen Mom OG' Season 7 Reunion airs Monday on MTV.
Watch Mackenzie and Dr. Drew face off in the clip below!
(Photos: MTV)