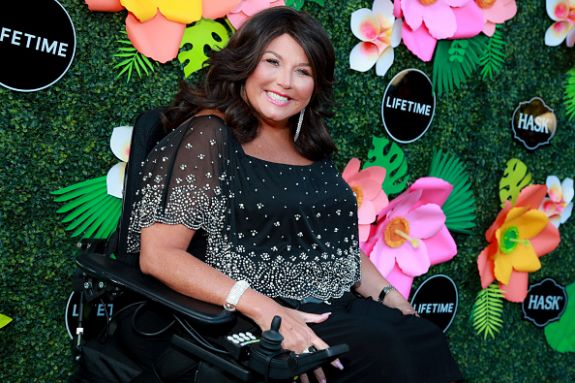 Dance Moms star Abby Lee Miller is cancer free, free from incarceration and now, speaking freely on both of her life-changing experiences.
The dance instructor was a guest on The Wendy Williams Show this week where she opened up about the 366-day federal prison sentence she was handed in May of 2017 for charges of bankruptcy fraud. During the interview, Abby Lee revealed that her celebrity status worked against her in prison, and she was not treated kindly by the guards.
In a clip from the episode, Abby told Wendy that prison "doesn't soften you, it hardens you," admitting that she "absolutely" had a tougher time with the prison guards than she did with her fellow inmates, whom she said "were wonderful."
"Do you know how many guards said, 'Where is that Dance Mom lady at?' and I was like, 'You don't put a preposition at the end of the question,'" she joked.
Abby went on to tell Wendy that upon her arrival at the prison in July of 2017 , guards tried to rip her eyelash extensions off her eyes, and that her permitted sheet of paper with contact phone numbers and emails "went missing in five minutes."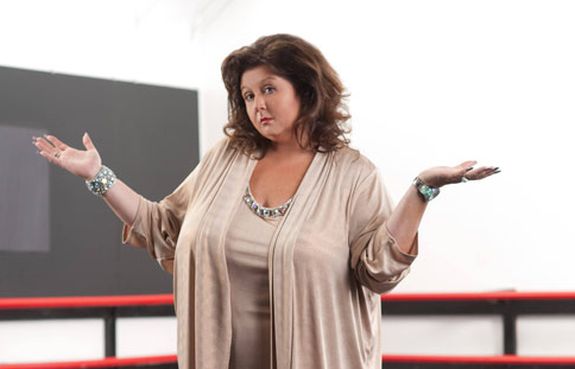 "They were ready for me," she said. "I had heard from other women that for three months prior to my arrival that it was the buzz."
Prior to her sentencing, Abby started some "buzz" of her own by deciding to undergo weight loss surgery (gastric sleeve) in the spring of 2017. When asked about the procedure, Abby told Wendy she went on to lose 127 pounds behind bars, adding that she also spent her time reading 150 books and working on her tan.
Abby was released in March of 2018. She was then ordered to live in a halfway house for a period of time.
Though Abby seemed pleased about the weight she dropped in prison, she said it ultimately led to her prison doctors taking her off of certain medications—- namely for her thyroid condition and diabetes—- because they no longer believed the medications were needed. When asked if she planned to take legal action against the prison for making this call, Abby said she is uncertain and still has a few months to make her decision.
The topic of Abby's health continued to be a main focus during her 'Wendy Williams' segment as she explained more about the type of cancer she was diagnosed with last year and how that diagnosis was ultimately made.
"It's called Burkitt Lymphoma and it's commonly found in little boys under the age of 10 in Africa and it grows very rapidly from three weeks to eight weeks," Abby said. "I had it maybe five or six weeks, but from three to eight weeks, if you get to eight weeks, you're dead."
Abby said the road to receiving the Burkitt Lymphoma diagnosis was a long one, beginning with visits to six different doctors for what she believed to be symptoms related to a sinus infection and dental problems. As her symptoms began to worsen, Abby said she was eventually admitted to the hospital, though she was released three days later without any answers.
"I went back the next day to the emergency room with the same symptoms, by now I have a severe pain in the back of my neck, in my upper back, my arms are flailing around like a crazy person, I can't sit down, I can't sit, can't go to the ladies room, I can't lay in the bed, I can't stand in the shower, I constantly have to be moving," she said. "I was in pain, it was starting to blind me, the pain."
Abby said she was then ordered by her surgeon Dr. Hooman Melamed to undergo an MRI; however, even after being sedated, she said her arms and legs were "still flailing," thus complicating the procedure.
"In 24 hours I was in intensive care, paralyzed from the neck down, in the fetal position," she continued.
As The Ashley previously told you, Dr. Melamed ended up having to remove part of several of Abby's vertebrae in order to relieve pressure from her spinal cord. Abby said after receiving her cancer diagnosis, she had to then undergo 10 rounds chemotherapy "24-hour-a-day bags, six days straight," she said, along with a spinal tap on 10 different occasions.
Abby, who spoke out in April about her health journey one year after receiving her diagnosis, confirmed again to Wendy that she is now cancer-free.
Abby continues to use a wheelchair following her emergency surgery and cancer diagnosis (as seen on Wendy's show) which is something she had also addressed in her one-year post-surgery social media post.
"I struggled through months of physical therapy to learn to sit up again, to crawl and maybe with a miracle someday I'll walk," she wrote.
In the meantime, Abby has not let any of her health issues stand in the way of her making her way back to the dance studio and to reality TV, as 'Dance Moms' returned this summer for Season 8, and is currently airing on Lifetime.
Watch Abby's full interview on Wendy Williams below!
@Abby_Lee_Miller talks beating cancer, her experience in prison, the new season of "Dance Moms" and more. pic.twitter.com/HhaRkEbYK0

— Wendy Williams (@WendyWilliams) August 28, 2019
RELATED STORY: 'Dance Moms' Star Abby Lee Miller Reflects on One-Year Cancer Journey: "Maybe with a Miracle Someday I'll Walk"
(Photos: Rich Fury/Getty Images; Lifetime; Instagram; Twitter)