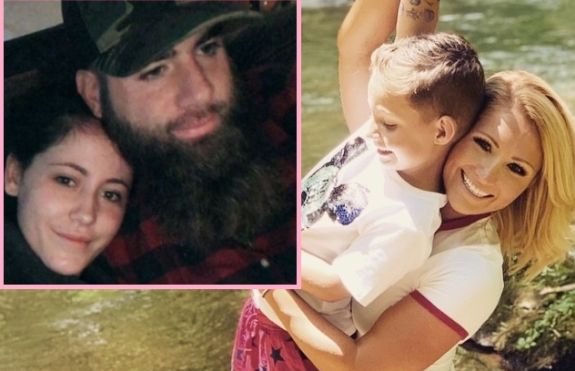 David Eason's (second) baby mama Olivia Leedham is doing everything she can to keep their son, Kaden, away from the Teen Mom 2 star!
On Wednesday, Olivia posted a GoFundMe fundraiser to her private Facebook page, asking friends and family to donate money that will go toward paying an attorney to continue fighting David in custody court. In the fundraiser's description, Olivia reveals that she is genuinely afraid to have Kaden be around David, especially after David (allegedly) killed his wife Jenelle Evans' dog Nugget a few months back. Olivia writes that the high volume of 911 calls coming from The Land also worries her.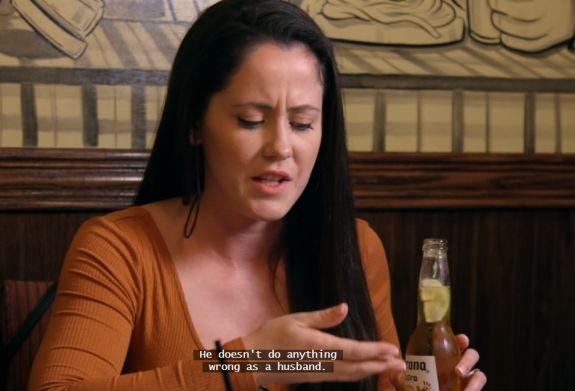 "When it comes to Kaden's father, David Eason. I am sincerely concerned about my child being around someone who is extremely volatile," she wrote. "Domestic violence including 911 calls, animal cruelty in which case a dog was beaten and shot, and much more has all been mentioned to of happened at the Eason home."
Olivia, who works as a hairdresser, asked people to donate money to keep the fight in court going.
"So for the past 5 years I have been in a custody battle to protect my child from harms way," she wrote. "We have come a long way and have spent nearly $50,000 on attorney fees to keep the case going. My family and I are struggling to pay anymore. I am a single mom of two. I do my best to work as much as I can. I don't have the means to keep going alone financially within the court system. I am finally reaching out for help."
She also noted that Kaden– who is five years old– does not have any desire to see his father.
"I am completely concerned for my son's safety, physically and mentally. He is persistent on not going to his Dads and doesn't even want to speak to him. I am beyond worried," Olivia wrote.
Kaden is David's second child and only son. (He also has 12-year-old daughter with his ex-wife Whitney Johnson, and two-year-old daughter Ensley with Jenelle.) In May, David narrowly escaped going to jail for not paying Olivia the child support he owed her. After a judge told him to pay (after David tried to explain why he is unable to work), he coughed up the $5,187 he owed Olivia…and Jenelle was not happy about it!
In case you're unaware of David's history with his son Kaden, allow The Ashley to tell you the story…
David was not allowed to see Kaden for the majority of the five-year-old's life. Olivia obtained sole legal and physical custody of Kaden after David was charged with domestic violence against Olivia while she was pregnant with their son.
"[David] endangered the life of the child by pushing [Olivia] when she was eight months pregnant and leaving her in the middle of the road at night when she was seven months pregnant," the court papers from the incident stated.
Olivia filed a restraining order, and David was not allowed to have contact with her or Kaden after that. In March 2016, David was arrested for approaching Kaden in a grocery store and violating the restraining order.
In February 2017, The Ashley broke the news that Olivia had a change of heart and was allowing Kaden to visit David occasionally. However, by February 2018, Oliva had become alarmed by the change in David and the situation on The Land and begged a judge in court papers not to make her son go to be with his father. She listed David's "recent firing from his employment" [on 'Teen Mom 2'], as well as "potential substance abuse issues" and "marital strife" as reasons she wanted Kaden to stay away from David.
"[David] is exhibiting erratic and concerning behavior," Olivia claimed in the paperwork.
A month later, though, The Ashley broke the news that Olivia had backed down and closed her case in the New Hanover County, North Carolina, court, agreeing to comply with the custody order in place and allow Kaden to see his dad on The Land. David was allowed to have Kaden on overnight visits after that, provided that the boy was not shown on 'Teen Mom 2.'
That all changed, though, after The Ashley broke the news that Jenelle had called 911 in October 2018, claiming that David physically assaulted her. Jenelle later called the incident "a huge misunderstanding" in the press and on 'Teen Mom 2,' but Olivia went back to court to get David's visitation with Kaden discontinued.
After the judge sided with Olivia in May adn ruled that Kaden would not have to go to his father's, Jenelle took to her social media pages to rant about how unfair it is that some mothers won't allow their kids to see their fathers.
"No matter how badly you hate your ex, no matter how much drama you try to make up, the court system will NOT keep a child away from his father. #JustSaying," she added.
At press time, Olivia's fundraiser had raised $580 of her $5,000 goal, after being live on the site for only five hours. It appears that many of Jenelle and David's so-called "haters" had made some of the donations, based on the names. ("Nugget Eason" and "SuckItDavidAndJenelle" were two of the more-colorful ones used.)
So far, Jenelle and David have not commented publicly on the fundraiser.
RELATED STORY: David Eason Narrowly Escapes Jail By Paying Over $5,000 He Owed in Child Support to Ex Olivia Leedham: Jenelle Evans Responds By Starting Feud with Her
(Photos: MTV, GoFundMe, Instagram)