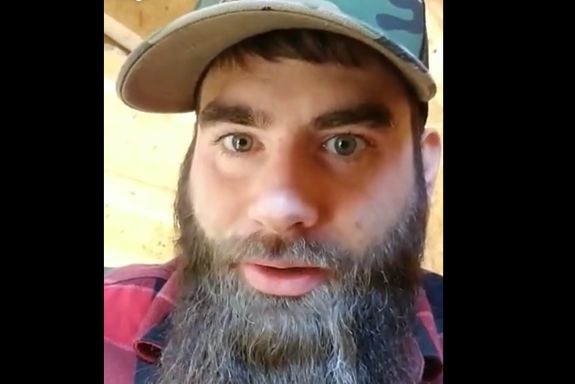 David Eason almost went to jail on Friday— and it had nothing to do with him beating and shooting his wife Jenelle Evans' dog earlier this week!
The banned-from-TV former Teen Mom 2 star was in a North Carolina courtroom Friday morning to pay the piper on the $5,187 in child support he owed his baby mama, Olivia Leedham, who is the mother of David's son Kaden…and Jenelle was not happy about it!
"The judge told David at his last court hearing that if he wasn't caught up by the next hearing [which was Friday], he'd be going to jail," The Ashley's source tells her. "He had a decent amount of time to come up with the money."
According to TMZ, when David first showed up to court on Friday, he did not have the money he owed Olivia.
"The judge gave him a reprieve … to come up with the money in the next few hours," the site reported.
David left the court (but not before threatening a cameraman from the local news station, naturally) and later returned with the money he owed his ex.
"David is not currently allowed to see his son Kaden, so it's possible he didn't feel he should have to pay child support for the him," The Ashley's source told her.
Following the court hearing, Jenelle went after Olivia on social media, posting a series of comments about Olivia.
"Olivia Leedham I hope you have a good lawyer," Jenelle wrote on Facebook. "You just HAD to post about me didn't you? Trying to make money off my DEAD DOG? You're such a sorry person it's pathetic. I can say so much about you but I won't…I'll just pray."
In another post, Jenelle wrote, "Olivia Leedham, when's the last time you went to AA?"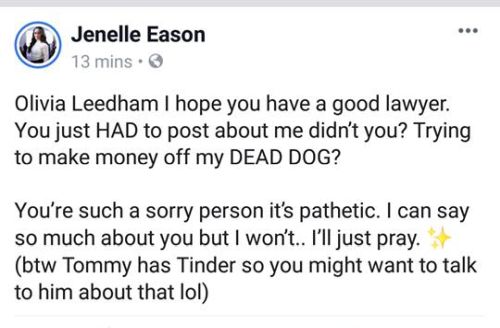 Olivia didn't respond on social media, except to repost a petition started by the Animal Hope and Wellness Foundation, demanding that action be taken against David, the remaining dog (Jax) be taken into protective custody, and animal cruelty charges filed against David.
At press time the campaign had nearly 60,500 signatures.
In case you're unaware of David's history with his son Kaden, allow The Ashley to tell you the story…
David was not allowed to see Kaden for the majority of the five-year-old's life. Olivia obtained sole legal and physical custody of Kaden after David was found guilty of having committed domestic violence against Olivia while she was pregnant with their son.
"[David] endangered the life of the child by pushing [Olivia] when she was eight months pregnant and leaving her in the middle of the road at night when she was seven months pregnant," the court papers from the incident stated.
Olivia filed a restraining order, and David was not allowed to have contact with her or Kaden after that. In March 2016, David was arrested for approaching Kaden in a grocery store and violating the restraining order.
In February 2017, The Ashley broke the news that Olivia had a change of heart and was allowing Kaden to visit David occasionally. However, by February 2018, Oliva had become alarmed by the change in David and the situation on The Land and begged a judge in court papers not to make her son go to be with his father. She listed David's "recent firing from his employment" [on 'Teen Mom 2'], as well as "potential substance abuse issues" and "marital strife" as reasons she wanted Kaden to stay away from David.
"[David] is exhibiting erratic and concerning behavior," Olivia claimed in the paperwork.
A month later, though, The Ashley broke the news that Olivia had backed down and closed her case in the New Hanover County, North Carolina, court, agreeing to comply with the custody order in place and allow Kaden to see his dad on The Land. David was allowed to have Kaden on overnight visits after that, provided that the boy was not shown on 'Teen Mom 2.'
That all changed, though, after The Ashley broke the news that Jenelle had called 911 in October 2018, claiming that David physically assaulted her. Jenelle later called the incident "a huge misunderstanding" in the press and on 'Teen Mom 2,' but Olivia went back to court to get David's visitation with Kaden discontinued.
Earlier this month, a judge sided with Olivia, ruling that Kaden would not have to go to his father's.
Jenelle was not happy about the ruling, and took to her social media pages to rant about how unfair it is that some mothers won't allow their kids to see their fathers.
"Can't wait until my husband can be happy with his son again. #Blessed," Jenelle posted.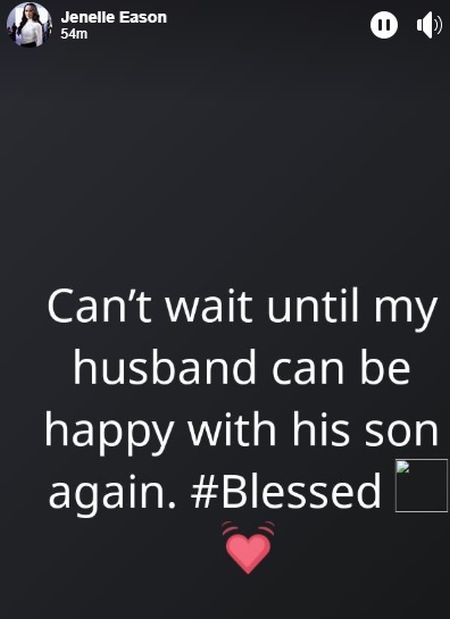 "No matter how badly you hate your ex, no matter how much drama you try to make up, the court system will NOT keep a child away from his father. #JustSaying," she added.
She also made a post about child support. (Isn't it ironic…don't ya think?)
She posted a meme that stated, "Child support doesn't make you a father. DNA doesn't make you a father. Your presence and actions do."
Jenelle then added the comment, "Yeah…sometimes it's not that easy. Sometimes the mother won't allow visitation to happen."
David is not off the hook legally, however. On Thursday, the Columbus County Sherriffs Office and Animal Control launched a joint investigation into the death of Jenelle's dog Nugget. David also has to go to court next month to face the two charges against him stemming from the incident in December in which he filmed himself "self-towing" a stranger's truck.
Stay tuned…
UPDATE! According to Radar Online, Jenelle did, indeed, pay David's back child support to keep him out of the clink.
"David left the courtroom and contacted Jenelle, and she agreed to pay the money to him," a source told the site. "Jenelle refused to pay his child support before the hearing… David never paid because he didn't have any money, but this time he convinced Jenelle that he was going to jail and she bailed him out."
RELATED STORY: Investigation Into Murder of Jenelle Evans' Dog Officially Launched: Here's a Timeline of Events So Far
(Photos: Instagram)