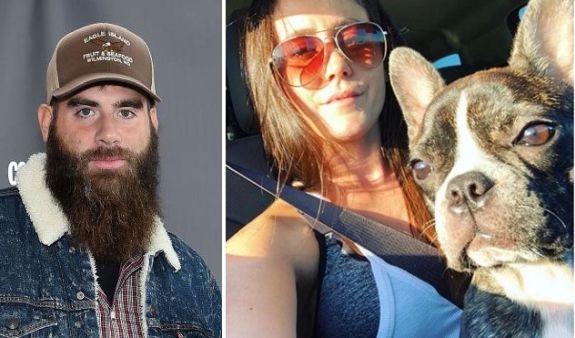 David Eason tried to tell the cops who visited The Land earlier this week that everything was fine and that the dog belonging to his wife Jenelle Evans was alive and well…but it appears the authorities from Columbus County, North Carolina, are not buying his story.
Both The Blast and TMZ report that, as of Thursday, the Columbus County Sheriff's Office and the Columbus County Animal Control have "initiated a joint investigation into allegations of animal cruelty that reportedly occurred at a residence on Money Hole Road in Riegelwood." (That residence, by the way is better known as "The Land" to Teen Mom 2 fans.)
There has been a lot of false information circulating the Interwebs since this story broke on Tuesday, so The Ashley is providing a timeline of events, based on confirmed reports from law enforcement, as well as her own sources.
Monday April 29: Jenelle's dog Nugget snaps at her daughter Ensley while on The Land. Jenelle, David, Ensley, Maryssa and Kaiser are all on The Land at the time. (Jace is currently on a cruise with Barbara Evans.)
David shoots the dog, with reports varying that he also beat it before taking it to the woods to end its life. In an interview done with Us Weekly on Wednesday, Jenelle described the scene, stating that David took the dog about "two acres from the house" and shot her.
"Kaiser and Ensley had no idea and [haven't] said anything about it since," Jenelle said, adding that David's older daughter Maryssa, who is 11, is aware of what happened and apparently was very upset by the incident.
"[She] immediately went to her bedroom and didn't come out all night until the next day," Jenelle said.
Jenelle posts to her Facebook page that she is feeling sad, but does not mention why. Most assume that it's due to the episode of 'Teen Mom 2' that is airing.
Tuesday, April 30: Police confirm that a "frantic" male calls 911 to report that David shot the dog. The caller is referred to the non-emergency line and makes the report. The caller has yet to be identified (although The Ashley can confirm it was not Nathan Griffith as many outlets have stated).
The Sheriff's Department confirmed to Radar that the call took place.
"A call was made today, and it was relayed that the woman's husband had killed her dog. The Sheriff is out there right now investigating and there will be an incident report filed later."
Jenelle and the kids have already left The Land and are staying at her friend's house when police arrive to investigate.
On Tuesday afternoon, Radar Online breaks the story, reporting on the call.
Nathan reads the story and becomes aware of what happened and calls the police (not 911 as many outlets are reporting) to request a welfare check for his son, Kaiser, and the rest of the family. He tells police that he's worried the dog was shot in front of Kaiser.
Police arrive but find no one on The Land, but return Tuesday night to do a welfare check. According to TMZ, David tells the cops that Nugget is alive; however, he refused to let them see the dog. The officers determine that unless Jenelle herself files a police report, nothing more can be done.
The Ashley's sources tell her that Jenelle and the kids were back on The Land by Tuesday night; however, Jenelle was telling people she was staying at her friend's house.
Jenelle posts statuses late Tuesday night to social media in response to the media circus that has erupted from the story about Nugget's death, denying that she fled The Land out of fear of David.
"I didn't 'run away from home,'" Jenelle tweeted. "Haven't been home all day and been busy taking care of my kids and myself. Had no idea any visitors came by my house…still don't know what happened at my house. Please stop making up rumors. I haven't spoken to any media and still not. Bye."
Wednesday May 1: David confirms he killed Nugget, justifying his actions in an Instagram post by stating the dog bit Ensley in the face. He posts video of the dog snapping at Ensley but does not reveal if it was the snap that cost Nugget her life.
"A dog is a dog and I don't put up with that s**t at all," David wrote on Instagram. "I'm all about protecting my family, it is my life's mission. Some people are worth killing or dying for and my family means that much to me."
Jenelle posted a tribute to Nugget, apologizing to the dog for what happened to her. She tells Us Weekly she is considering divorcing David and confirmed that he shot the dog.
She later begins posting "clickbait" articles about the dog's death to her social media accounts for profit. Jenelle tells E! News that she isn't back on The Land and that she is "very much considering divorce."
"I have not gone back to my home yet because he is refusing to leave," Jenelle told the site. "I won't see him and don't want to talk to him. Thankfully the kids did not see him shoot the dog. They are still with me. I am very much considering pressing charges against him for this."
Later that night, David reportedly posts a video of himself out drinking with Jenelle but quickly deletes it.
PETA issues a statement on the incident, while several companies that run their advertisements during 'Teen Mom 2' state that they are considering pulling their ads from airing during 'Teen Mom 2.'
The Attorney General's Office reportedly received 138 complaints in regard to the dog's death by Wednesday, according to TMZ.
Thursday, May 2: Jenelle blasts David's mom on social media for "selling stories" about David. She insists, though, that she's not sticking up for David by posting this.
"Instead of selling stories on your son and making him feel like shit even more.. why don't you CALL HIM. You have no idea what's up with him cuz you didn't contact him in months (Not sticking up for anyone but damn)," Jenelle writes.
Columbus County Animal Control reportedly sent an officer to The Land on Thursday to confirm that Nugget was dead, and to figure out where the dog's body is currently, according to TMZ.
At around 3 p.m. ("The Land" time), Animal Control officers arrived on The Land to investigate, but were greeted by a large pitbull (who we can assume is Jenelle's dog Jax) on the porch, as well as several "No Trespassing" signs. Knowing that David has confirmed in previous Instagram videos that he will not hesitate to shoot anyone who trespasses on "The Land," the officers flee, according to TMZ.
The site also reports that officers from the Sheriff's Department will be going back to The Land to find out if Nugget is still alive, and who Nugget's owner actually was.
Jenelle continues to post clickbait articles about Nugget's death, and posts a brief video to her Instagram Stories to show that she is currently at her friend Jamie's house and not on The Land.
The Columbus County Sheriff's Office confirms to TMZ that they, along with the Columbus County Animal Control, have "initiated a joint investigation into allegations of animal cruelty. The investigation is ongoing."
As of Thursday afternoon, David has not been charged with any crimes in relation to the death of Nugget.
(Photos: Instagram; Jamie McCarthy/Getty Images)