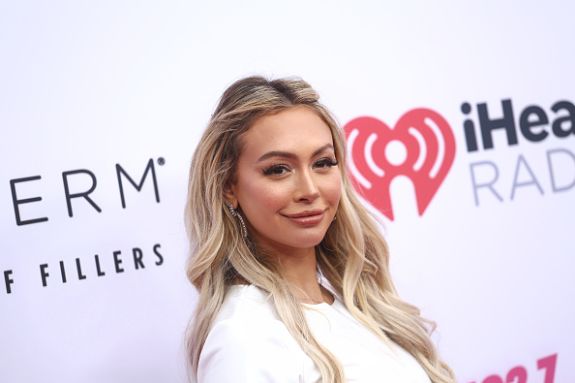 Bachelor in Paradise raised the bar this season by featuring a same-sex couple for the very first time in the franchise's history– and fellow Bachelor Nation folks are SO here for Demi Burnett and her girlfriend, Kristian Haggerty!
In fact, one of the franchise's most-controversial stars— Corinne Olympios— says a same sex couple is long overdue on a 'Bachelor' show!
"I might get in trouble for saying this, but I don't care," Corrine Olympios exclusively told The Ashley's reporter at WEtv's Love After Lockup premiere party earlier this month. "I think America 'Bachelor' was very middle-America and very scared to go outside the lines of being Middle America and stepping outside that box of their fan base."
In fact, Corrine says she auditioned for The Bachelor to bring some "spice" to the vanilla franchise.
"Honestly, that's why when I came on the show, and I was really weird and not like the typical 'Bachelor' contestant," she said. "People were freaking out about it. But now, I feel like things are changing in society and the entertainment industry, which I'm so happy about. I think that it's becoming more acceptable and they're like, 'Okay, you know what, f**k. We should have done this a long time ago,' and they're right."
ABC's Entertainment's Senior Vice President of Alternative Series, Specials & Late-Night Programming, Robert Mills, seemingly agrees. He recently opened up to Entertainment Tonight about their decision to show Demi's same sex relationship.
"It was an authentic story where Demi Burnett really was confused [about her love life] and wanted to go to 'Paradise' to figure things out — to see if this was somebody she wanted in a long relationship," he said. "She started to think, 'I think it might be, but I want to figure it out,' and asked if [Kristian] could come to 'Paradise' and explore this relationship. It wasn't necessarily that it was the right time [to feature a same-sex couple].
"It felt like: this is a great story, no matter who it was. If it was an ex-boyfriend too, if it was the right story, we would've found him," he added. "I think that everybody feels really, really proud about this."
Robert said that showing a gay couple on one of their shows is a big step for the Bachelor franchise.
"This is a story line that didn't get swept under the rug … It's done really well and tastefully, but not shy about it at all. It's really great for the franchise."
While Corrine admitted she is not watching 'Bachelor in Paradise' this season, she says that she is getting a good laugh at the expense of this season's playboy, Blake Horstmann.
"I literally can't even deal with that drama," she said. "I haven't even watched the show. Just what I've seen on social media. I was THERE at Stagecoach with them. Saw them interact. I just think it's very [childish] and I call it CFA, which is crying for attention, and I just feel like it's CFA."
'Bachelor in Paradise' is currently airing on ABC.
RELATED STORY: ABC Announces Another Spin-Off is Being Added to 'The Bachelor' Franchise
(Photos: Tommaso Boddi/Getty Images; Instagram)