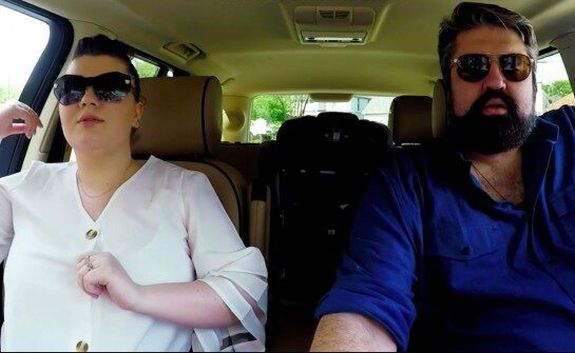 A third audio recording featuring Teen Mom OG star Amber Portwood going off on her then-boyfriend Andrew Glennon has been released. In this clip, like the previous two, Amber can be heard verbally abusing Andrew and threatening his life, but this time, she brings her abuse of her other baby daddy, Gary Shirley, into it!
The audio recording, which was given to the Without a Crystal Ball vlogger by "a source connected to Andrew and Amber," was reportedly recorded in August 2018. Andrew has said on social media that this was the first time Amber allegedly physically assaulted him. In the recording, Amber and Andrew discuss the incident, and both admit that Amber hit Andrew while he was driving.
The vlogger states that Amber became upset because Andrew refused to pass a truck in front of them, as Amber instructed him to, and she got angry about it. (The photo below was posted to Amber's Instagram account just days before this recording allegedly took place.)
This comes on the heels of two other disturbing audio recordings released last week on the Without a Crystal Ball YouTube channel. In both of those recordings, Amber threatens to kill Andrew multiple times, and can be heard verbally abusing him.
The new audio recording starts out with Amber mocking Andrew for being upset that she hit him in his face.
"Is it because my fat f**king mouth can't deal with this?" Amber asks as she mockingly cries.
Andrew insists that he was quiet when Amber told him to be quiet, but that Amber kept yelling at him anyway.
"You're a motherf**king joke, dude!" Amber yells. "That's not what happened! NO IT'S NOT, you f**king old man! No the f**k it's not! No, it's not you f**king senile bitch!"
Andrew asks Amber to stop yelling in front of their infant son, James, but Amber continues to yell that Andrew's a liar.
"It's a bunch of lies out of your f**king ignorant head!" Amber yells. (We can assume that Amber is calling Andrew a liar because he won't admit to continuing to "run his mouth" after she told him to be quiet.)
Andrew denies lying, telling Amber, "You like to hit people. What the f**k?"
Amber doesn't dispute that she likes to hit people. She does, however, explain who she hits.
"I hit people who can't shut their f**king mouth!" she screams.
Andrew says he did shut his mouth, but Amber denies that.
"No you didn't shut your goddamn mouth, no you didn't honey," she says. "No you didn't you senile ret**d! No, you f**king didn't. You kept going, going and going, just like the other f**king night!
"You're f**king RET**DED!" she adds.
Later in the audio (after calling Andrew a "little bitch-ass baby"), Amber accuses Andrew of never working in his life. (This is ironic because Amber met Andrew while he was working on the crew of Marriage Boot Camp: Family Edition.)
"You've never did anything, you f**king little brat!" she screams, before switching the attack to Andrew's previous relationships.
"I wonder why your other relationships didn't work out? Because of your fat f**king mouth!" Amber yells. "You're a disrespectful f**king punk!"
Amber then accuses Andrew of "trying to ruin people's goddamn lives" before telling him that she doesn't regret hitting Andrew, and that he deserved way worse than he got.
"You deserved exactly what you got! In fact, you deserve way more than that, honey!" Amber tells Andrew. "You speak to me in an ignorant f**king ridiculous tone…nobody cares what's coming out of your f**king mouth. You're lying, you ret**d. YOU did it. You kept f**king going, you f**king ret**d!"
Amber said she told Andrew to stop screaming while they were in the elementary school parking lot, and he protests that he was screaming, "Because my face was bleeding!"
Amber kicks Andrew out of the house, then tells him, "I'll f**king kill you, dude! I swear to f**king God! I swear to God!"
"You just hit me. You just f**king hit me!" Andrew says.
"You deserved it– and then some!" Amber replies.
"No I didn't, I didn't deserve that," Andrew protests.
"Watch your motherf**king mouth when you're speaking to me!" Amber screams.
"I didn't deserve that," Andrew says again.
"You did! In my head, you did! Because you're a piece of s**t!" Amber replies.
Amber accuses Andrew of ruining her life, which Andrew denies.
"You punched me in your daughter's elementary school!" he tells her. "You hit me while I was driving."
Amber doesn't deny that she hit him.
"Yeah, I did! I did! Next time shut your F**KING MOUTH!" she screams.
"That's what you do to people driving…?" Andrew asks.
"100 F**KING PERCENT! Plus more!" Amber yells back. "So much more to come honey if you want to f**king test me! You can get sad all you want, Andrew, but your punk ass can't speak to me like that."
Andrew accuses Amber of being "a lie." (We can assume he means her public persona is much different than who she is behind closed doors.)
Andrew then brings up Amber's other baby daddy, Gary, asking if this is what she used to do to him.
"Yeah, Gary had a fat f**king mouth too and I beat the s**t out of him! I sure did!" Amber said. ('Teen Mom' fans know that Amber was arrested and later convicted of domestic violence and battery against Gary, which, in part helped send her to prison in 2012.)
"I sure the f**k did! You keep doing this…" Amber says before trailing off.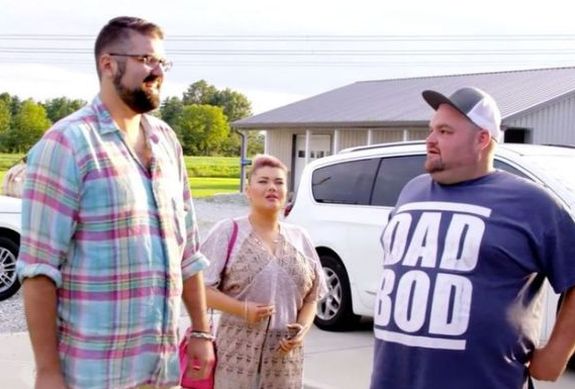 Gary has not yet spoken out about any of the audio recordings released. Before their release, however, he had publicly supported Amber at her court hearings.
Last week, MTV held a conference call to discuss the first clip (which was the only one at the time that had been released). Despite reports circulating the Internet right now, The Ashley can confirm that, as of Tuesday night, Amber had NOT been fired from her job on 'Teen Mom OG.' (The Ashley will update this if anything changes.)
To listen to the entire audio clip below. (Be forewarned that this video continues a lot of profanity and may be very triggering some listeners.)
To listen to the first leaked audio clip, click here.
To listen to the second leaked audio clip, click here.
(Photos: MTV, Instagram)