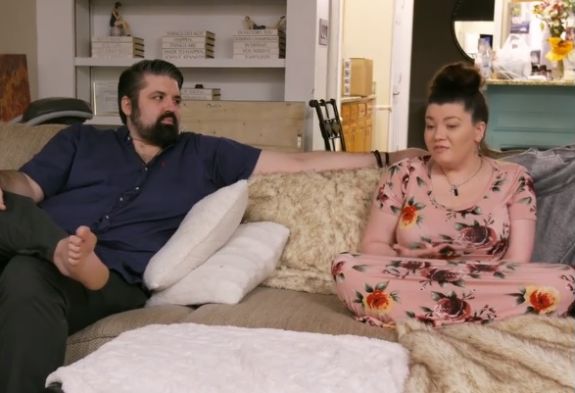 Another bombshell audio recording of Amber Portwood has been released.
On Friday— one day after a recording of the Teen Mom OG star verbally abusing her baby daddy Andrew Glennon broke— a new recording was posted to the Without a Crystal Ball vlog. In the new recording, which the vlog owner Katie Joy claims was sent to her by a family member of Andrew's, Amber can be heard cursing Andrew for getting her pregnant.
The audio also features what sounds like Amber hitting Andrew, and Andrew asking her to stop hitting him because he is holding their son James. Amber can also be heard threatening multiple times to kill Andrew, and saying she will stab him in his neck
According to the vlogger's source, the new audio clip was recorded on Christmas Eve 2018. It begins with Amber and Andrew arguing while James is in the room.
"I'm telling James when he gets older that you're a trashbag!" Amber yells at Andrew.
"You should tell him that you didn't want him. How about that?" Andrew yells back.
Amber admits that she didn't want the baby, and that she didn't want to have another baby until she was in her thirties.
"Thirty two is when I wanted a baby!" she screams. "So you tell me how I ended up not having a baby for 10 years! Fat ass!"
Her voice then gets even more intense and a sound is heard that is similar to someone hitting something.
"Tell me how I had a motherf**king baby!" she screams. "Tell me! Tell me how!"
Andrew starts screaming "Ow! I'm holding James! Stop hitting me!"
"Tell me f**king how in 10 years!" Amber yells back. "Answer the f**king question! Tell me now how I did not have a baby for 10 years."
When Andrew suggests that Amber didn't become pregnant because she was on birth control (someone went to itsyoursexlife.com, apparently!), Amber becomes even more enraged.
"You fat ass! You ugly fat f**k! You don't deserve me!" she yells. "You disgusting fat ass. I can't wait, I'm going to blow you out of the water. You will never have a career IN.THIS.INDUSTRY! But I will make HUNDREDS of thousands of f**king dollars!"
Andrew then asks Amber calmly, "Why are you so abusive?"
Amber tells Andrew that it's because he's a disgusting man who "used my body." (We can assume she is talking about him getting her pregnant.)
The video picks up again after that, with Amber screaming, "I'm going to say this to you one more time you ugly f**king fat ass: get out of my house now! Get out!"
Amber tells Andrew to "take him and go." ("Him" is James, by the way.) She then threatens to make a statement to the press "about everything."
Andrew begs Amber to calm down and take her medication, but she continues.
"It's done! You had the audacity to say s**t to me?! Bitch!" she screams. "I'm making a statement. I'm making a statement to the press. We are broken up and this is why."
"Because I got you pregnant?" Andrew asks. "That's gonna fly!"
James can be heard babbling in the background, proving that he was in the room as this fight was taking place.
"You got [James], go!" Amber yells.
Andrew explains that, to make a baby, they both had to have sex, but Amber starts counting down.
"1…2…Get the f**k out!" Amber says as another noise is heard.
"You're going to throw something at me with the baby?" Andrew says.
"I will kill you! I will kill you! Get out!" she screams, then adding, "I'm gonna stab you in your neck!"
Andrew repeats what she said.
"Why are you going to stab me in my neck?" Andrew says, as the audio clip cuts off.
The vlogger explains that the rest of the clip is more of the same, with Amber repeating herself.
You can listen to the entire video with the audio clip below. (Be forewarned, though, that it contains some very rough language and maybe triggering to some listeners.)
RELATED STORY: EXCLUSIVE! Inside Amber Portwood's Arsenal of Strange Weapons: A Custom Sword & More!
(Photos: MTV, Instagram)