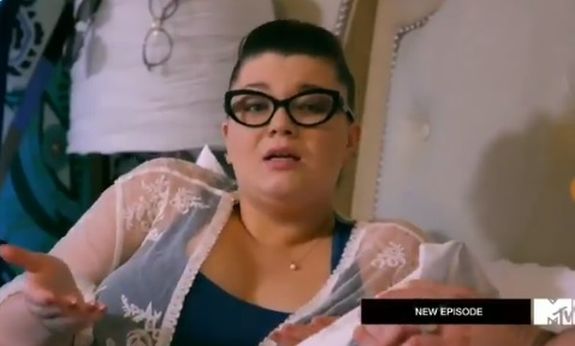 The producers of Teen Mom OG have been left scrambling to figure out what to do with Amber Portwood, after audio recordings were released on Thursday and Friday that proved the reality TV star has verbally abused her ex-boyfriend Andrew Glennon and threatened to kill him multiple times!
The Ashley can exclusively reveal that, following the release of the audio clips on the Without a Crystal Ball YouTube channel, the show's highest executive producers held a conference call on Thursday to discuss the audio, and Amber's future on the show. (This was done even before the audio clip from Friday was released.)
The Ashley's production source tells her that the release of this audio "changes everything" in terms of how the show would have covered the Amber/Andrew drama.
"Everyone was in Amber's corner after her arrest, because she said she was set up, and that Andrew was making things up to make her look bad," The Ashley's source said. "She doesn't act like this when MTV is at the house. Now, they have actual proof of what was going on in the house."
(The Ashley will update this when she gets more info on what was discussed during the conference call.)
"Amber will not be filming," the source said. "Her lawyer is forbidding her from filming and has ordered her to stay off social media for the time being. MTV was in Indiana last week, though."
(The source wasn't sure if Amber had been filmed during that time or if producers were in town to film with her ex Gary Shirley.)
The Ashley can confirm, though, that Amber's producers have been in contact with her since the audio was released.
"They want to get her help and send her to a facility, possibly the one Catelynn [Lowell] went to, but right now Amber does not feel that she has a problem, so not much can be done," the source said.
"[Her producers] were shocked [when they heard the clips]," another source tells The Ashley. "They can no longer deny that this has been happening, and things from the past, even as far back as when she was with Matt [Baier] are now starting to make sense. Many of [the producers] have known her since she was a teenager and they were shattered when they heard the clips.
"And," the source added, "many of the producers have also literally begged her to stop going on Instagram Live and tried to get her to see how much her rants are hurting her case. Whether or not Amber will listen and put down her phone, though, is anyone's guess."
Now that the second clip has been released (featuring Amber making more death threats toward Andrew and containing what sounds like Amber actually hitting Andrew while he's holding their infant son), the producers are once again discussing what needs to be done.
"A statement should be coming soon," the source said.
The Ashley will update this story when she has more information.
RELATED STORY: Leaked Audio From Inside Amber Portwood's House Proves Verbal Abuse of Andrew Glennon: 'Teen Mom OG' Star Heard Calling Him "Fat Piece of S**t" & Vowing to Stab Him
(Photos: MTV; Instagram)