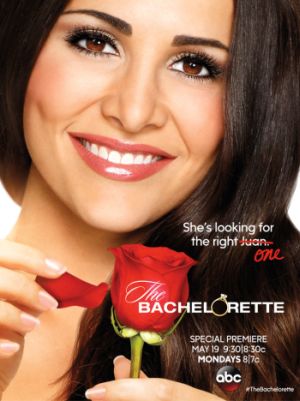 ABC has released the very first promo poster for Andi Dorfman's upcoming season of The Bachelorette and, from the looks of it, the network is still not over the disastrous last season.
The poster, which features Andi's face, along with the tagline "She's looking for the right Juan one" is obviously a play off the promotional phrase they used to promote the season of The Bachelor starring Andi's former beau, Juan Pablo Galavis. (Who could forget the gag-inducing "Juan-uary" campaign?!)
It appears that ABC is trying to get in a final dig at their former star, Juan Pablo. (You may remember that Juan was a complete asswipe to Chris Harrison and the show's producers during the "After the Final Rose" special, so it's really no surprise that they want to diss him a bit.)
Andi isn't a fan of Juan Pablo either. After making it into his final three, she spent a night in the Fantasy Suite with JP and quit the show the next morning, due to JP saying "offensive" and "inappropriate" things to her. This poster is surely the first of many "Juan bashings" that will coming at us on Andi's season.
While Andi doesn't like Juan Pablo, she is extremely close to his fiance er…lover um…girlfriend from the show, Nikki Ferrell. The ladies have maintained their friendship despite what happened between Andi and Juan Pablo, and Nikki has even said that Andi is like "a best friend" to her.
Andi's season of 'The Bachelorette' premieres Monday, May 19 at 9:30 p.m. After the premiere, the show will switch to its regular time slot of Mondays at 8 p.m.
(Photo: ABC)