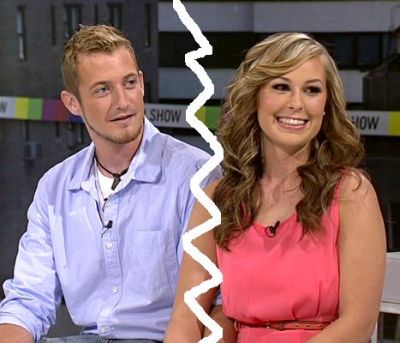 Say it ain't so! The only couple to ever find a happy ending on the reality show Catfish has called it quits!
Only weeks ago Lauren Meler and Derek Schullenbarger, who met on the second season of the show, shared their engagement photos with People magazine. The engaged couple had been living together in Derek's home state of Maryland (Lauren is from Texas). According to the photographer that took their engagement photos, they seemed to be extremely happy together, which makes the split even more shocking.
"They're so in love," the photographer told the magazine of the couple. "I usually have to remind couples to kiss for the camera, but that was not a problem for them. They're so passionate."
The couple became engaged last year, and in September Lauren announced that she had become pregnant. Unfortunately, that pregnancy ended in a miscarriage. They remained strong as a couple and were able to recover from the loss.
Derek and Lauren's split, which appears to have happened sometime around the beginning of April, comes as a surprise. The apparent reason for the breakup, however, is even more shocking! From what The Ashley can gather, Lauren and Derek ended their relationship because Lauren wanted to get back with her ex-boyfriend, who is the father of her three-year-old son Mason!
Guuuuurl!
Derek and Lauren have remained silent about the breakup on their social media accounts, but 'Catfish' fans are mourning the loss of the show's own successful couple. Hopefully Season 3, which premieres on Wednesday, May 7 on MTV, will bring us other happy couples to root for!
(Photo: MTV)