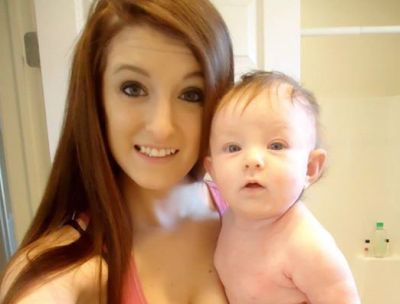 The fifth season of 16 and Pregnant premiered last night with an explosive episode featuring Illinois teen Maddy Godsey, who after breaking up with her longtime boyfriend, got pregnant with a guy she hooked up with on the rebound.
That guy, Cody Jensen, gave Maddy mixed signals throughout her pregnancy: he claimed he wanted to be with Maddy, yet failed to be there for her while she was pregnant. (Don't worry if you missed the episode last night; The Ashley will be doing her best to recap each episode this season!)
Before last night's episode aired, Maddy took to her social media accounts to give her fans some background about what was really happening during filming between her and Cody, and provide details on why she made some of the choices that she did.
"Before everyone sees the show, I just wanna point some things out so I don't seem like a HUGE bitch lol," she posted on Monday night. "It's hard to fit everything into an hour show so some things may have gotten cut out!"
Maddy provided an update on her life today and answered questions about where things stand with Cody. Obviously, this is only Maddy's side of the story, but, based on what we saw last night, it seems to be based on truth.
Does Cody still see baby Aubrey?
"He hasn't asked about or seen Aubrey since she was 2 months old," Maddy wrote. "He said it isn't worth seeing her if he can't take her overnight. Yet, he has a pot plant growing in the backyard knowing that could get her taken away. She doesn't even know who he is, and she's not getting in the car with someone who is uninsured."
According to Maddy, Cody's parents do not see Aubrey either and will not return her calls.
Why didn't Maddy give Aubrey Cody's last name?
As we saw on the episode, Cody wasn't exactly Expectant Father of the Year, which is why Maddy chose to give Aubrey her last name instead of Cody's.
"I didn't give Aubrey his last name because he hasn't shown me he deserved it," Maddy wrote. "He wasn't around financially or emotionally for me or Aubrey."
Did Maddy get pregnant on purpose?
Um, no. As she told a fan on Twitter, "If I was gonna get pregnant on purpose, I'd pick any other father in the world."
Why did Cody and Maddy break up?
"Cody was not around for the first 7 1/2 months of my pregnancy and we broke up because he was out partying and cheating telling people he was only with me because of Aubrey," Maddy wrote.
In addition, Maddy says that Cody was smoking pot and using heroin during this time. (While we obviously have no proof of this–other than Cody's nasty teeth–multiple sources told The Ashley that Cody had a drug problem back when she first announced that he and Maddy were going to be on the show.)
Maddy also hinted that Cody may be mentally unstable.
"He used to tell me he needed medication to control his anger and when he didn't take it he would be mean,"  she said. "What if he snaps around Aubrey? Also he used to do heroin so how do i know he isn't still?"
Where are Maddy, Cody and Aubrey living today?
Cody is also the father of a baby boy that was born two months before Aubrey. He now lives with the mother of this child and is in a relationship with her.
Maddy and Aubrey are still living with Maddy's father.
What happened with the DNA test?
"He did ask for a DNA test but I never refused," Maddy wrote. "I told him he has to pay for it. Why should I pay when I know he's the father? He can use the child support I'm not getting."
She told a fan on Twitter that Cody also demanded a DNA test from his other baby-momma also.
"He denied that it was his son and wasn't in his life, then he changed kids and left Aubrey's life for his son's," she tweeted.
To learn more about the other girls that will be featured on this season of '16 and Pregnant,' click here!
(Photo: Facebook)