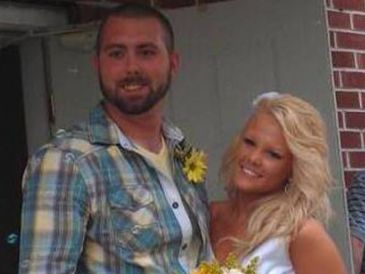 Leah Calvert shocked the Teen Mom 2 world on last night's Reunion special when she revealed that her ex-husband, Corey Simms has had a hard time keeping it in his pants, even though he's been married to his second wife, Miranda, since June of last year! Leah told the audience and everyone's favorite silver fox, Dr. Drew, that Corey was trying to get her back right up until she walked down the aisle for the second time!
"A week before we got married he kept texting me and texting me and he's like 'I miss my family'" Leah said. "And he told me way too much stuff about him and Miranda."
That "stuff", according to Leah, included details on how Corey would cheat on Miranda early on their relationship.
"Cory always looks like the good guy," Leah told the audience. "When him and Miranda got together the first time he was out cheating on her. It wasn't just me…[Miranda] knows that. [Corey] told me she knows that. But she doesn't know that I know that."
Miranda (who, as The Ashley has stated over and over again, is way too hot and sweet to be wrapped up with this redneck "Ross and Rachel" saga) had a few things to say about Leah's bombshell. She took to her Twitter to respond.
"Don't believe everything you hear," she tweeted after the show aired. She then retweeted her friend Cody's tweet, saying that "People wanna steal others happiness."
She followed that up with a longer tweet, letting fans know that she isn't worried about what Leah revealed on the show.
"Love this life God has created for me. So excited about the future that he has planned for me & my Husband and our family! #Loved #Blessed #Thankful," she tweeted, adding, "Who you are is who you trust."
For what it's worth, The Ashley thinks it was a classless move on Leah's part to discuss a couple's private issue (even if she knew about it.) The cheating, if it did indeed happen, took place before their marriage and at the beginning of their relationship, and Miranda has obviously moved past it. Leah had no right to drag out Corey's dirty laundry on national TV just to make her own cheating look more acceptable.
(Photo: Facebook)