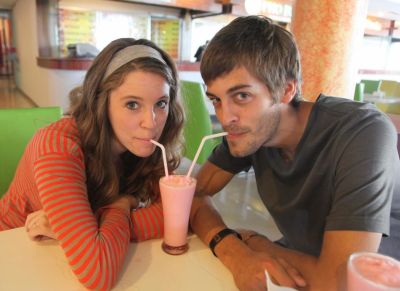 Jill Duggar just can't wait to get frisky, apparently! The 19 Kids & Counting star has only been engaged to Derick Dillard for a month, but has already set the date for her wedding. According to the couple's wedding website, the blessed event will take place on June 21, 2014, which is only 64 days away!
The website has been password protected to conceal where the ceremony and reception will take place, but the couple has allowed their proposal and relationship story to be viewed publicly. In a touching essay, Derick reveals "how I met the girl of my dreams" after he became 'prayer partners' with Jill's father, Jim Bob.
"Being that we had similar life goals, [Jill] caught my attention," Derik wrote. "The first time Jill and I spoke was over the phone in a brief conversation we had back in March 2013.  I continued speaking with Jim Bob (Jill's dad) over the summer, but didn't speak with Jill again until August.  However, during this time I was praying about Jill and asking God for direction in getting to know Jill better. "
Jill and Jim Bob eventually took a trip to Nepal, where Derik was doing humanitarian work, and the couple decided to start a courtship. Derik asked for Jill's hand in marriage in January. The couple is refraining from any hanky-panky (other than hand-holding) until their wedding day.
"All of us kids have agreed that we want to save our first kiss for our wedding day," Jill's sister Jessa recently revealed in a promo posted on the show's website.
"We did not save our first kiss for our wedding day and we really regret that we didn't," Jill's mother Michelle said.
Jessa is also in a serious relationship. Although she's not officially engaged, she has been courting with Ben Seewald for five months.
"Things are going really good!" he said in the promo.
Anyway, there's no word on which of the Duggar sisters will serve as Jill's bridesmaids (perhaps all eight?!) because the "Wedding Party" section of the couple's website has been protected. They did, however, allow access to their gift registries! (For some reason, The Ashley loves creeping on other people's registries. Don't judge me.) Wanna see theirs? Click here!
The couple has been very frugal in their wedding gift selections. (Don't you hate it when your friends ask for a ton of really expensive stuff? No one needs a $400 serving platter, come on!)
Their registries revealed that they may be planning to have a big family like Jill's parents: they requested place settings for eight people!
Congrats to Jill and Derick!
(Photo: Jim Bob Duggard)