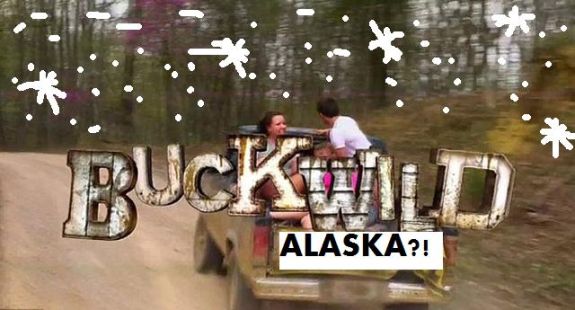 Update: The Hollywood Reporter is confirming that the new show will air on MTV. The network discussed the show during an upfront presentation to ad buyers today. The name of the new show will be— wait for it— Slednecks!
Last year, MTV cancelled the redneck-themed reality show Buckwild after the tragic death of one of its cast members, Shane Gandee. The remaining cast members were livid when they found out their show had been given the [cowboy] boot by the network, but their attempts to keep the show on the air faltered and 'Buckwild' faded into the "Semi-Bad Reality Show" archives….until now!
TMZ broke the story that the show's producers are planning a 'Buckwild' reboot! However, instead of revisiting the muddin', clubbin' and truck bed swimmin' kids of the West Virginia hollers, the new show will instead be focusing a new cast living in Wasilla, Alaska.
"The concept is the same as before — lots of hooking up and fights — but with some insane new stunts," TMZ reported. "They've already shot the cast skinny dipping in freezing cold water during an ice fishing trip…and a crazy snowmobile ride through the mountains, with people being pulled on inner tubes. "
According to the network's description, "the half-hour docuseries follows a group of 'outdoor tough' friends living in the modern-day Wild, Wild West of Alaska.  It's an inside look at their unique lifestyle where the world can be tougher and more dangerous than anywhere else in the lower 48. Yet these "Sled-necks" make the most of what they have, always making sure they have a good time doing it and maintaining the close bonds they have forged as friends."
While 'Buckwild' fans may be excited about the reboot, the original 'Buckwild' cast is less-than-thrilled about the new show.
"Nothing will ever top the original, sorry," original 'Buckwild'-er Ashley Whitt tweeted after the news broke.
"New 'Buckwild' show coming out of Alaska? That's a slap in the face to the REAL Buckwild cast that I get to call my friends. Shame on y'all," Kristina Shae retweeted.
The comments on the original TMZ story are hysterical. Apparently some people are puzzled as to why Wasilla, Alaska, was chosen to be the backdrop of the show, given its reputation for being a meth hub.
"[Wasilla] is the meth capital.of Alaska … should have a great cast. Meth break, everybody take five. Smoke it if you got it," one commenter wrote.
Sounds like the perfect show for The Ashley to watch!