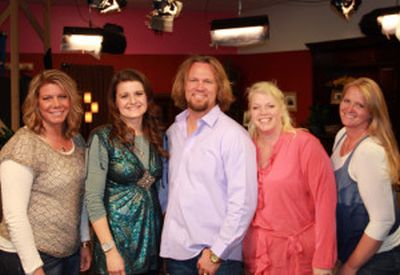 If My Five Wives just isn't satisfying your craving for polygamous hi-jinks, you're in luck: it looks like the original polyg-themed reality show, Sister Wives, is coming back for a fifth season!
Although TLC has yet to officially announce that a fifth season of the show is on its way, multiple sources have told The Ashley that the Brown family is busy filming the new season. A source says that Kody and Meri were filming in Utah earlier this week. (Perhaps visiting their daughter Mariah, who is attending college there?) The source said that everyone was extremely friendly.
Last month, Kody and Janelle were spotted filming in Logan, Utah. A TLC representative told the city's local paper, The Herald Journal, that Kody and Janelle's daughter, Madison, has been offered a $6,000 scholarship to Utah State University and had been "planning on touring the campus at the end of March, which is what our cameras will be capturing."
Kody, Janelle and Madison were spotted filming all around the campus. Again, by all accounts, the Browns were very friendly and even posed for photos with fans during their visit.
Interesting…so, for those of you keeping score at home: that will give the Brown family two kids going to expensive colleges in Utah, and two kids going to an expensive college in Las Vegas. (Both Logan and Aspyn attend UNLV.)
Anyway, there is no word on when the new season will air, but it is happening! While 'My Five Wives' was interesting, nothing can compare to the original polygamy series, 'Sister Wives!'
Are you excited the 'Sister Wives' are coming back? If you like this show, be sure to check out The Ashley's "Sister Wives by the Numbers" post by clicking here!
(Photo: Facebook)