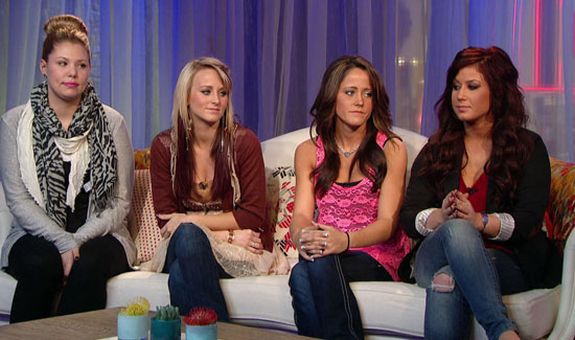 Since the reunion special finished airing last week, Teen Mom 2 fans have been wondering when they'll be getting their next spoonful of Barbara Evans (oh, and those other girls). The Ashley can exclusively reveal when 'Teen Mom 2' Season 5B will air!
As The Ashley previously told you, the bigwigs at MTV decided to extend the show's fifth season and create a second part. (It will essentially be a whole new season, but MTV is allegedly reluctant to call it that because that would mean they would have to renegotiate all of the cast and crew's contracts. Therefore, they are turning it into a "5B" season.)
According to several of The Ashley's show sources, we will have to wait a while to watch the new episodes.
Multiple people close to the show have confirmed to The Ashley that the new Season 5B episodes will begin airing in September. (A summer without Babs? Talk about "summertime sadness!")
Keep in mind that MTV is fickle and may change this, but, as of right now, this is when they are planning to air Season 5B.
The episodes will feature everything that happened after the reunion was taped in February until the events that take place around August. (This will likely include the birth of Jenelle Evans' second baby!) Although no reunion filming date has been set, it's likely to be taped around October.
But that's not all… The Ashley's sources tell her that, although MTV had decided that Season 5B would be the show's last, they are starting to rethink that decision. Although nothing has been officially decided yet, the network is considering keeping the girls around for Season 6. According to one show source, it's likely that the stars will sign on for another season.
"It's hard [for them] to say no," the source told The Ashley. "This has been their lives for five years now."
Are you excited to see the new episodes in September!? The Ashley will keep you updated on all the latest 'Teen Mom 2' gossip in between!
(Photo: MTV)