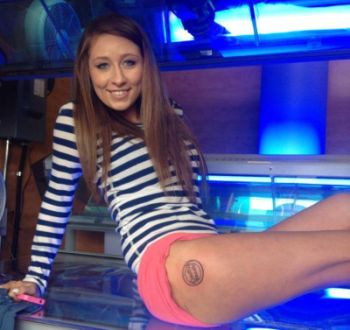 Seriously, The Ashley couldn't even make something like this up. The Ashley loves bad tattoos, but this story really takes the cake. (Be sure to follow The Ashley on Twitter— every Friday is #BadTattooFriday on her feed!)
Anyway, the girls of 16 and Pregnant are known for getting some pretty awful-looking tattoos, but Season 2 star Nikkole Paulun's new ink takes the prize for worst tattoo ever placed on a '16 and Pregnant' star's body.
Nikkole, who gave birth to her son Lyle back in 2010, scurried down to a tattoo/tanning parlor in her hometown of Monroe, Michigan, yesterday to get some new ink. She  didn't, however, get the cliche set of angel wings on her back, or even the giant ribcage cherry blossom design favored by girls her age. No, sir. Nikkole had the tanning parlor's logo inked on her upper thigh. The reason? Having the tattoo allows her to get free tanning at the salon for life.
No. Seriously. This really happened.
Nikkole wasn't the only person that had the shop's circled "Electriq Beach" logo inked onto their bodies. The salon posted photos to its Facebook page showing a huge line of folk, all eager to get the logo tattooed on them. Women old and young, along with a few guys, all lined up to be permanently branded, all in the name of free tanning. (The resulting skin cancer is just a free bonus gift, apparently.)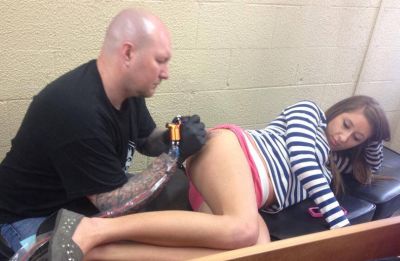 "I don't care. It's just a tattoo. You can get them covered/removed if you ever don't want it," she told fellow '16 and Pregnant' star Ashley Salazar in a Facebook conversation about her tat.
Nikkole's new "Stupidity Stamp" (it's kind of like a tramp stamp) has earned her a place at the top of the list of worst '16 and Pregnant' stars' tattoos. (It's so bad that it beat out Jenelle Evans' "YOLO" tat, as well as Amber Portwood's ginormous stomach portrait of her daughter, Leah.)
The '16 and Pregnant' episode featuring Nikkole aired in 2010, but Nikkole has hardly stayed out of the spotlight since her turn on the show. She caused a lot of commotion last fall when she claimed that she gave birth to her second child, a boy she claimed was stillborn. (She, of course, sold the story to Radar Online, as you do. ) Her best friend, Sam, later came forward and revealed that Nikkole had faked her entire pregnancy (and the baby's death) for attention and/or money to get a boob job. AS.YOU.DO.
(Photos: Facebook)